Patwon ki haveli Jaisalmer
Patwon ki Haveli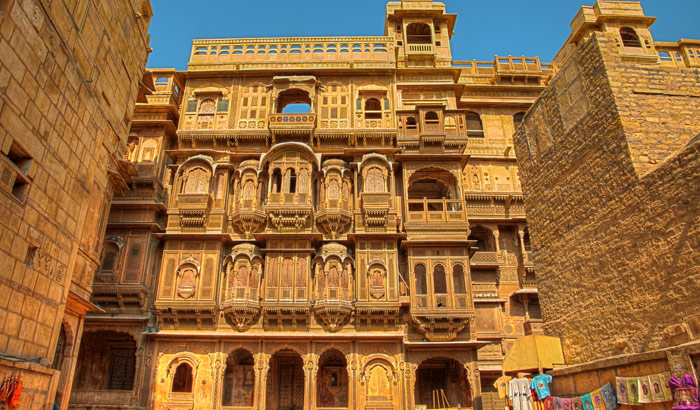 Patwon ki Haveli is one of the most grand and first haveli built in Jaisalmer, Rajasthan. Located close to Patwa complex, this haveli is also known as 'mansion of Brocade merchants' as it was constructed by wealthy brocade merchant. Patwon ki Haveli was constructed by five brothers of Jain religion during the period from 1800-1900. The first haveli was constructed by Guman Chand Patwa in the year 1805. He was a merchant by profession.

About  Patwon ki Haveli
Each of the five haveli's is very grand and beautiful. It took almost 60 years to construct all the five Haveli's. Haveli is built on Rajputs culture. Out of the five haveli's two serve as archaeological survey, one as museum where antique goods are on display last one server as the private accommodation and hence not allowed for public. Patwon ki haveli displays the beautiful architecture and tradition of Jaisalmer. The first haveli which is very grand shows the exquisite work of the craftsmen and the beautiful paintings of the olden times.  Patwon ki haveli truly must visit place is Jaisalmer to have a look of the grand work and beauty of the haveli. The haveli is a delight to eyes of the visitors. This historical monument draws thousands of tourists world wide for its beautiful architecture.
Best time to visit is from October to March. The mansion is open from Monday to Sunday from 9am to 5pm.

Salim Singh Ki haveli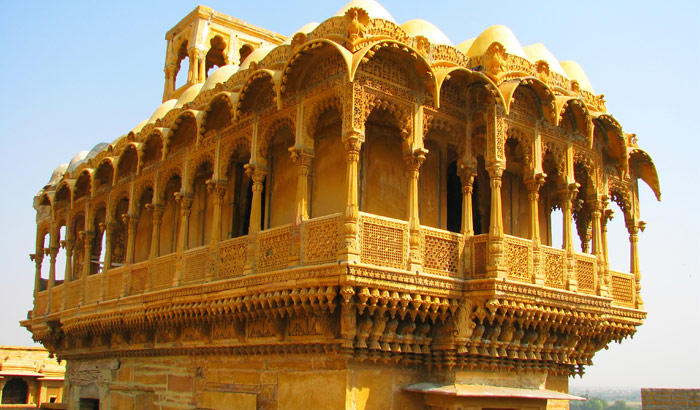 Salim Singh Haveli was constructed in the year 1815 by Salim Singh. The haveli or mansion is famous for its different architecture. It consists of a pavilion at the top and the arches are peacock shaped. The main cupola roof is blue shade. The haveli is built in red sand stone having numerous rooms, corridors and 38 balconies. The architecture is mainly influenced by dancing peacock. The entrance of the Haveli is guarded by tuskers.
It is believed that the haveli had two additional floors in order to make it as tall as the Maharaja's palace. But however Maharaja removed the top two floors. The haveli is situated in the heart of Jaisalmer close to railway station. The main attraction of the Haveli is the paintings and the architecture. The haveli is open from 8am -6pm. The best time to visit is from October-March.
There are many haveli's in Jaisalmer but these two are considered as important Haveli's of Jaisalmer. other haveli's include Natmalji Ki haveli, Manak chowk ki haveli.
Update on coronavirus in India
Affiliate Disclosure:
If you make any purchase via a link on this site, I may receive a small commission with no added cost to you.