Keoladeo National Park 
Keoladeo National Park
Quick Facts:
Country: India
State: Rajasthan
Location: Bharatpur 
Area:  2,873 hectares
Established: 10th March 1982
Best time to Visit:  October to February is the best time to visit the park.
Keoladeo National Park was earlier known as Bharatpur Bird Sanctuary in Bharatpur, Rajasthan India.  It was declared as a sanctuary in 1971 and was declared as a National Park in 1982.
Update on coronavirus in India
The park is a UNESCO World Heritage site and is a famous avifauna sanctuary. Keoladeo is home for more than 350 bird species which include both permanent and migratory birds. It is also home for around 50 species of fish, around 10 species of snakes, around 400 species of flora and also for amphibians, turtles and lizards.
Keoladeo National Park is the only park in India which is completely surrounded and enclosed by a 2 m boundary wall.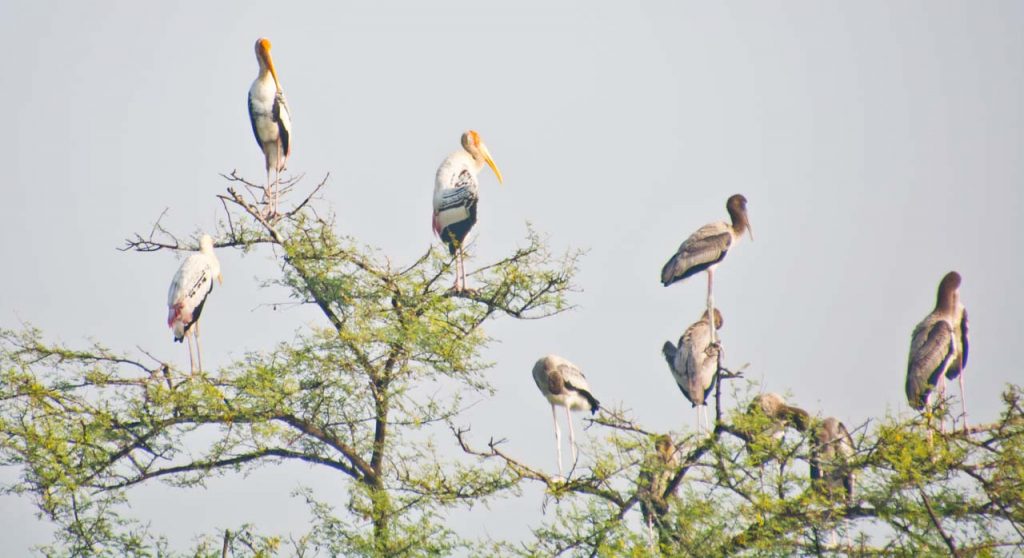 Read more about Tourism in India
This helps to stop any encroachment and also biotic disturbances. Due to this wall there is no buffer zone. Since these wetlands are not natural they are dependent on the monsoon and also water being pumped in from outside reservoirs called as Ajan Bandh

How to reach
The park can be reached either through rail, air and road depending upon the requirements.
By air- The nearest airport is Agra Airport. It is around 56 kms from Bharatpur. From the airport one can take a cab or taxi to reach Bharatpur. Agra Airport is well connected to Delhi and other major cities. 
By Rail: Bharatpur Railway Station is just 5 kms away from the bird sanctuary. There are many trains from Delhi, Mumbai and other major cities of India.
By Road: The park connects from all the major cities like Delhi, Agra, Jaipur and many other cities. Travelers can either take a private or government bus or take a taxi and drive down.
Best time to visit the park
Keoladeo National park is open throughout the year. The best time to visit the park is from August to November to see the local birds and from October to February to see the migratory birds.
Climatic Conditions
The park being located in Rajasthan experiences hot summer. The months between March and June are summer months where the  maximum temperature hovers around 47 degree celsius. The monsoon arrives in July and continues till late September with above average rainfall and very humid. The winter months are December to February where the minimum temperature could hover around 5 degree celsius.
History of Keoladeo National Park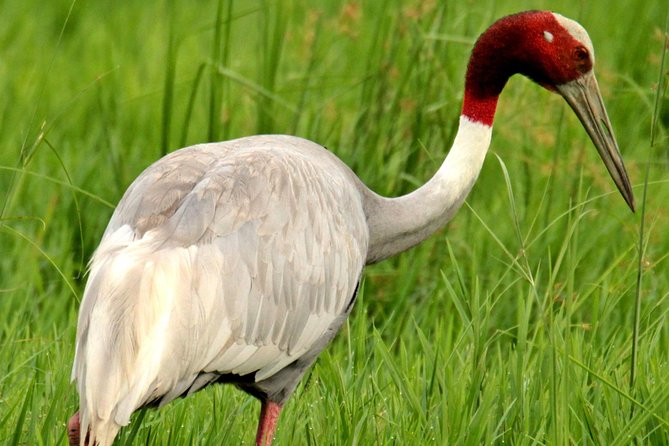 The park was created almost 250 years back and it was a hunting ground for Suraj Mal who was the Maharaja for the princely state of Bharatpur. It was named after the Keoladeo temples near its boundaries. In late 1850's duck shoots were conducted in the honor of British viceroys. In 1938 around 4300 birds were killed by the then viceroy of India Lord Linlithgow.
On 13th March 1976 it was declared as a bird sanctuary , in 1982 it was declared as a National Park. In 1985 the park was declared as a World Heritage  Site under the World Heritage Convention. In 1982 grazing was banned in the park which led to violent clashes between the farmers and the government.
Safari Timings
There are basically three types of Safari in the park. One can choose either to take Elephant Safari, Jeep Safari or Rickshaw Safari. It starts at 6 am in the morning and ends at 6 pm in the evening. Jeep Safari is good for going deep into the park and looking into the vegetation.
Jeeps can be booked outside near the main entrance of the park. One can get to look more closely at the birds if they go in a Rickshaw or elephant Safari.

Flora and Fauna
Keoladeo National Park is man made and man managed National park. One third of the park is wetland with mounds, dykes and open water.   The wetland is a part of the Indo Gangetic plain. The place has sparse vegetation with a large part of the park covered with shrubs and medium sized trees.
The principal vegetation in the park is tropical dry deciduous forest mixed with dry grasslands. The uplands have tall grass lands along with scattered shrubs. 
Read more about the Geography of India
The park has around 380 species of flowering plants out of which 96 are wetland species. The north eastern part of the park has Jamun, Kadam and Babul trees. One can also see Kandi and Ber trees in the scrublands part of the park.  Some of the other trees that can be seen here are ber, Kair, Piloo and some woody plants found in the saline soil.
Fauna
Keoladeo National Park is known as bird's paradise. It is home for around 370 different bird species, 27 mammal species, 7 amphibian species, 50 species of fish, 5 species of lizards and a variety of invertebrates. One can see a large number of macro invertebrates like worms, insects and mollusks. They become food for birds and fish which in turn help in the food chain.
The park is famous for migratory birds. Some of the birds that are seen here are Siberian Crane, Warblers, bee-eaters, bulbuls, buntings, quails, Indian hornbills, crested serpent eagle, spotted eagle, tawny eagle, osprey and many more. Some of the waterfowl that are seen here are painted stork, ducks, gadwall, cotton teal, ruff, white spoonbill, darter, green sandpiper and many more.
There are around 27 species of mammals as well in the park. Some of them are Hanuman langur, rhesus macaque, sambar deer, chital deer, nilgai, wild boar, bengal fox, hyena, smooth coated otter, rats, mice, bats, and many more are found in the park.
The park is home for Russell's viper, cobra and Krait along with monitor lizard,  Indian porcupine and skipper frog.
Tourism
Keoladeo National Park is open throughout the year. It is one of the most important tourist places in Rajasthan. Around 100,000 tourists visit the park every year. People living or coming to Agra, Delhi, Fathepur Sikri and Jaipur stop over in the National Park to see and enjoy the different species of birds. There is only one accommodation available inside the park which is maintained and managed by the government is the Bharatpur Ashok forest lodge.
Lohagarh Fort: 
The fort is located in Bharatpur which was built by Maharaja Suraj Mall who was a Bharatpur Jat ruler. The fort has two gates Ashtdhaatu towards the north and Chowburja to the south. Some of the important monuments in the fort are Kothi Khas, Moti Mahal, Jawahar Burj, Kishori Mahal. Both towers Jawahar Burj and Fateh Buri were erected to commemorate the victory over the Mughals and the British by these rulers. 
Deeg Palace:
Deeg Palace is 32 kms away from Bharatpur. It was built as a summer palace  for Bharatpur rulers in 1772. Earlier it was the capital of Jat kings who later shifted to Bharatpur.  The palace was an important site for the battle between Jat rulers and the combined forces of Mughals and Marathas which had an army of 8,000 men. The palace has around 900 fountains which usually operate only twice a year during Amavasya festival in February and September. The palace is open to the public from 9 am to 5 pm except on Fridays.
The Jat rulers were influenced by the Mughal architecture and splendid Mughal courts at Agra and Delhi. The design of the garden was influenced by the Mughal Charbagh. There are two huge water tanks namely Rup Sagar and Gopal Sagar which helps to maintain the temperature  during summers. 
Other than these places tourists visit Agra, Jaipur, Delhi, And many other nearby attractions.
Affiliate Disclosure:
If you make any purchase via a link on this site, I may receive a small commission with no added cost to you.