Jodhpur Rajasthan
Jodhpur Rajasthan
Country:  India
State: Rajasthan
District:  Jodhpur
Founded: By Rao Jodha in 1459
Elevation: 231 m
Tourist places: Mehrangarh Fort,  Khejarla Fort, Moti Mahal, Umaid Bhawan Palace, Sheesh Mahal, Pool Mahal, Machia National Park, Ghanta Ghar and many more.
Best time to visit: October to March is considered as the best time. 
Update on coronavirus in India
Jodhpur is one of the historical and ancient cities located in Rajasthan, India. It is the second largest city in Rajasthan and was the capital city of the Kingdom of  Marwar. The city which is also popularly known as "Blue city'' is located on the northwest of the Luni River. The north and northwest part of Jodhpur forms the Thar Desert.  The city is an important tourist destination in Rajasthan which has palaces, forts, temples and most important is the Thar Desert.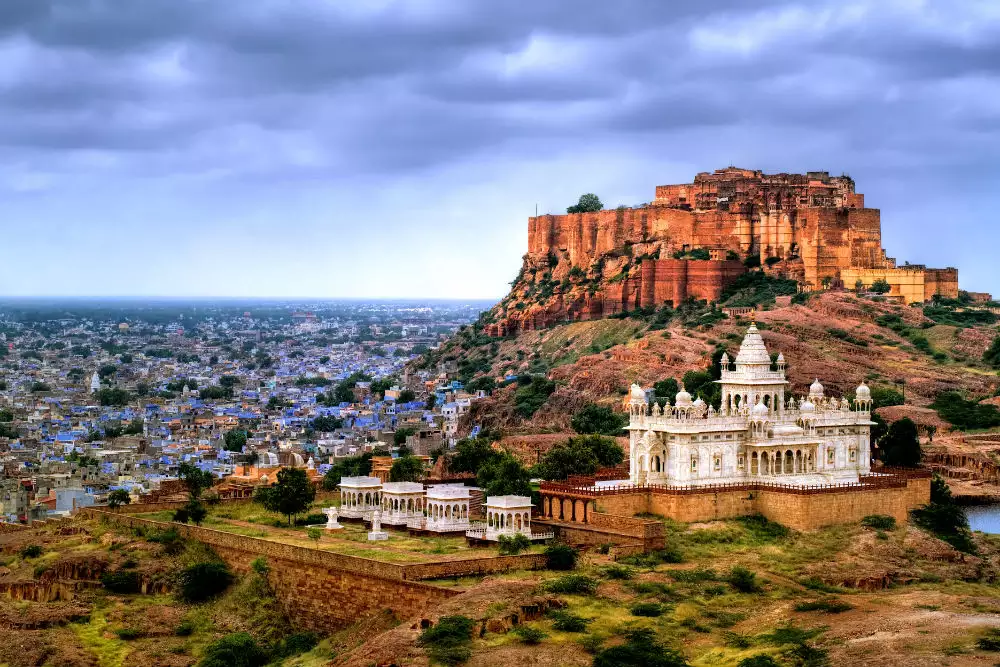 Climate/Seasons in Jodhpur Rajasthan
Climate/Seasons:
Jodhpur experiences hot arid climate with extreme seasons. 
Summer season: April to June are the summer months. The maximum temperature hovers around 48 degree Celsius. The peak months are May and June when there is Loo and if you are going out do carry an umbrella. 
Monsoon season:  July to September are monsoon months. The city receives moderate rainfall. The maximum temperature may hover around 40 degrees Celsius.
Winter season: November to February are the winter months. The minimum temperature may hover around 10 degree celsius during the peak winter months of December and January.  This is one of the best times to visit the city and enjoy the Desert Kite Festival and Marwar Festival.
How to reach Jodhpur
The Blue City is very well connected by air, road and rail.
By Air: Jodhpur airport which is primarily a military base airport is very well connected to major cities across India. Some of the major cities include Bengaluru, Mumbai, Delhi, Hyderabad, Indore, Belgaum, Ahmedabad, Kolkata and Chennai.
By Rail: Jodhpur is very well connected by Rail. Trains are available to most of the cities across India. To experience the Royal life of Rajasthan one can, travel in luxury trains like Palace on Wheels, Royal Rajasthan on Wheels and Maharaja Express. Jodhpur is one of the stations in these trains
By Road: Jodhpur has very well road connected service. Both private and government run buses to major cities at regular intervals. Rajasthan Roadways provides Volvo and Mercedes Benz bus services to Delhi, Jaipur, Udaipur, Jaisalmer and Ahmedabad. There are major National and State highways which pass through Jodhpur. Distance from major cities include:
New Delhi to Jodhpur - 575 Km
Jaipur to Jodhpur - 352 Km 
Jaisalmer to Jodhpur - 281 Km 
Bikaner to Jodhpur - 250 Km 
Agra to Jodhpur - 607 Km 
Ahmedabad to Jodhpur – 445 Km 
Udaipur to Jodhpur– 249 Km
Mount Abu to Jodhpur- 260 Km
History of Jodhpur
The credit of founding Jodhpur can be given to Rao Jodha who was the chief of Rathore Clan. It was founded in 1459. The blue city is named after its founder which was earlier known as Marwar.
According to various sources it is believed that Rathore's belonged to the Gahadavala dynasty. The Rathore's were thrown out of Kannauj from the Afghans. They moved to Pali which is near Jodhpur and sought shelter there.
Later Rathore Siahaji married one of the local princesses to gain strength and control over the region. They later took control of Mandore which was just 9 km from Jodhpur. Mandore served as the capital until 1459, later Jodhpur was made the capital.
Rathores exchanged good relations with the Mughals except with Aurangzeb. Maharaja Jaswant Singh had given his complete support during his struggle for succession. After the death of Aurangzeb, Maharaja Ajit Singh threw Mughals out of Ajmer and took control over it.
Chandrasen Rathore was another important ruler of Rathore who strongly defended his kingdom nearly for two decades from the powerful Mughal Empire. There was a continuous threat from Mughals all throughout his administration. In 1576, the Siwana fort was captured by the Mughals from Chandrasen. Akbar then sent Jalal to capture Chandrasen. But in the fight Jalal was killed by Chandrasen. Akbar, who was in no mood to give up, sent another strong army under the guidance of Bakshi Shahbhaz Khan in the 21st century.
By the end of 1576, the fort of Siwana had fallen to the Mughals and Chandrasen Rathore was left homeless. He then moved to the hills of Piplod. By 1580 with no internal unity among different Rathore rulers, Chandrasen was left with very little support. After his death in 1581 Marwar was bought under complete control of Mughal administration until Akbar gave back the throne of Marwar to Udai SIngh in 1583. He ruled under the guidance of Akbar.
Jodhpur Prospered under British rule in India. After India got Independence, Jodhpur was merged with the state of Rajasthan and became the second largest city of the state.
Tourism in Jodhpur
The Blue city has many historical monuments, forts and palaces. It is one of the most important tourist cities in Rajasthan. Some of the major attractions in Jodhpur are
Mehrangarh Fort:
It is one of the magnificent forts built by Rao Jodha in 1459. It covers an area of 1,200 m on a Hilltop. The fort is above 122m from the surrounding plain. The fort is open on all days from 9 am to 5 pm. The splendid architecture and vast history make it one of the most important places to visit.
The fort has seven gates namely Jai Pol which was built by Maharaja Man Singh to celebrate his victory over Jaipur and Bikaner, Fattehpol which was built to commemorate victory of Maharaja Ajit Singh over Mughals.
The other gates are built by different rulers to commemorate the victory over Jaipur and Bikaner. As one enters the fort there are many finely built palaces which include Moti Mahal, Phool Mahal, Sheesh Mahal, Daulat Khana, Elephant's howdahs. There is also a museum inside the fort which has palanquins, howdas, royal cradles, miniatures, costumes of the royals worn, furniture and many more.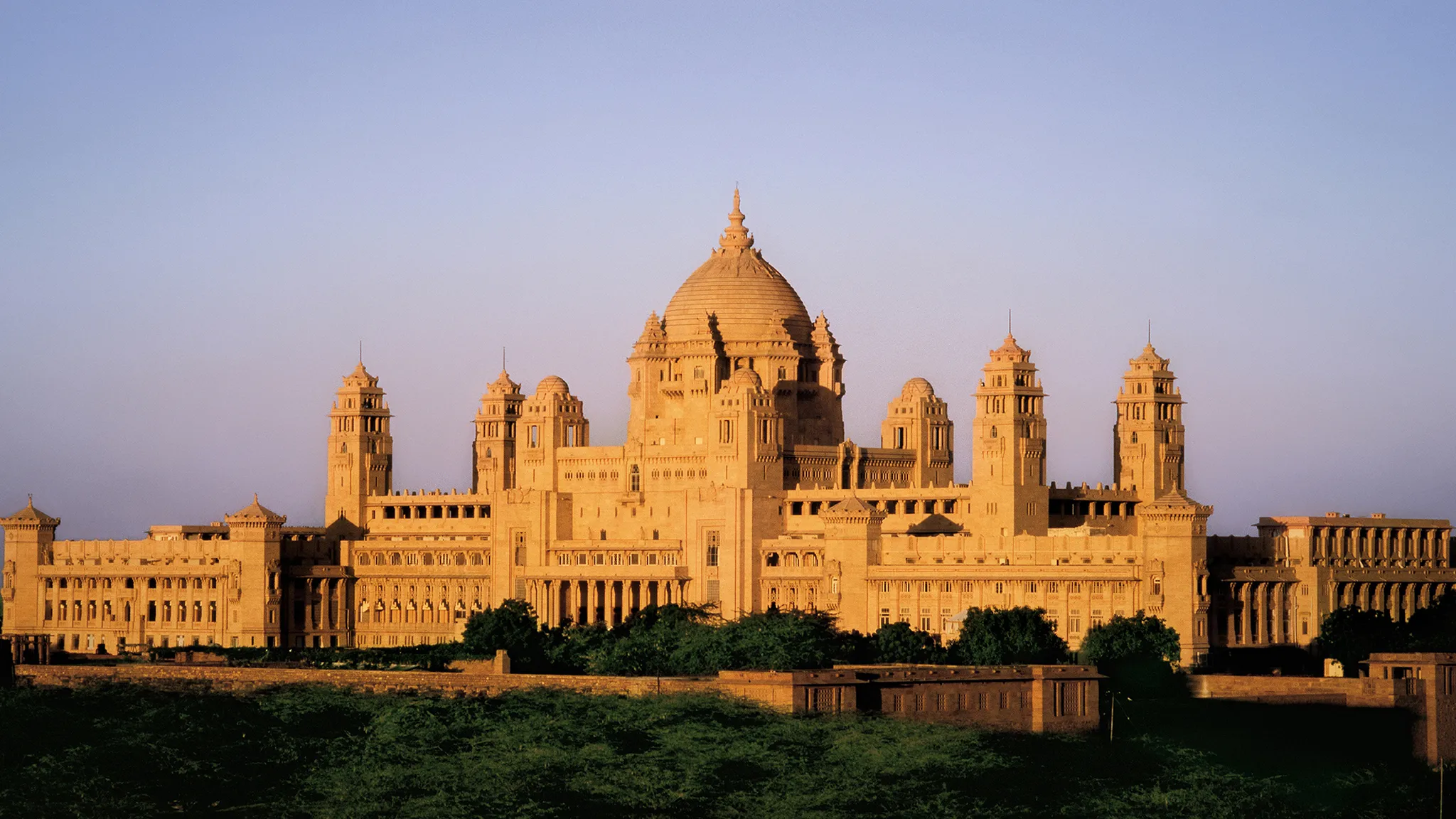 Umaid Bhawan Palace:
It is one of the world's largest private residences located in Jodhpur. Part of it is managed by the Taj Hotels.  Construction for this massive and marvelous palace was started in 1929 and completed in 1943. The palace has 347 rooms and part of the palace is converted into a museum. It is the residence of the Royal family of Jodhpur. 
The Palace is named after the Maharaja Umaid Singh who is the grandfather of the present owner Gaj Singh. Gaj Singh has been the Maharaja of Jodhpur since 1952. The palace has swimming pools, tennis courts, marble squash courts, library and a Billiards room. The palace is open from 9 am to 5 pm on all days.
Jaswant Thada:
It was built in the late 19th century in memory of Maharaja Jaswant Singh II. It is a white carved sheet of marble cenotaph built by Maharaja Sardar Singh. It is also the cremation ground for the Royal family.  The cenotaph is surrounded by a garden and a lake. There are three more cenotaphs on the ground floor.
Ghanta Ghar:
Also known as Clock tower, it is located on the busiest streets of Jodhpur. The tower was built by Maharaja Sardar Singh.
Mandore:
An ancient town located very close to Jodhpur. Pratiharas of Mandavypura ruled the place since the 6th century. The place has a mythological connection which is visible through the Ravana temple. It is believed that Mandodari, who is Ravan's wife, belongs to this town. They both got married in Mandore. Until 1459 Mandore was the princely state of Marwar until Rao Jodha shifted the capital to Jodhpur.
The city has many monuments like the ruined  Mandore Fort, Mandore gardens and the Ravana temple. Mandore gardens is one of the main attractions which has temples, memorials and high rock terraces. The garden is also the home for many cenotaphs or the Chhatris of many rulers. Prominent one is the cenotaph of Maharaja Ajit Singh built in 1793.
Kaylana Lake:
It is an artificial lake built by Pratap Singh in 1872. It is one of the best places for bird watchers and also to relax and enjoy nature's beauty.  The lake gets its water from Hathi Nehar which is further connected to the Indira Gandhi Canal. The lake is the main source of drinking water to Jodhpur city and surrounding areas.
Mahamandir temple:
It is an architectural beauty situated on Mandore road. The temple has 84 pillars and finely carved figures depicting various postures of yoga. The temple is open on all days from 5 am to 12 noon and from 4 pm to 9 pm.
Jodhpur government museum:
The government is home for around 400 sculptures, 10 ancient inscriptions, miniature paintings, local art and craft work, portraits of rulers, ancient coins, terracotta artwork and many more. There is also a different section which shows the history of Jodhpur which exhibits tools, weapons, brass wooden models and many more. The museum is open from 10 to 5 pm. It is closed on Fridays and on National Holidays.
Machia Biological Park:
It is also known as Machia Safari Park located in Jodhpur. It is a zoological garden near Kaylana Lake. It has many varieties of flora and fauna.  It is considered as one of the best places for bird watching. Some of the animals that can be seen here are deer, desert foxes, blue bulls, monitor lizards, hare, wild cats, mongoose monkeys and many more
Mandaleshwar Mahadev:
Mandaleshwar Mahadev is a very ancient temple built by Mandal Nath in 923 AD. The temple is dedicated to Lord Shiva and the walls are beautifully decorated with the paintings of Lord Shiva and Goddess Parvati.
Sardar Samand Lake Palace. 
This beautiful lake palace was built by Maharaja Umaid Singh in 1933 on the banks of Sardar Samand Lake. The lake attracts many migratory birds like Himalayan griffon, Dalmatian Pelican, yellow legged green pigeon and many more. The palace has a vast collection of African trophies and many watercolor paintings. It is converted into a Heritage Hotel now.
Balsamand Lake:
It is an artificial lake built in 1159 to provide water to Mandore. It is just 5 km from the Jodhpur Mandore Road. There is a very impressive summer palace built on the shore of the Lake. It is converted into a Hotel now. The palace is surrounded by lush green gardens of mangroves, papaya, pomegranate, guava and plums. One can see animals and birds like peacocks and jackals.
Rao Jodha Desert Rock Park:
It is situated near Mehrangarh fort. The park spreads over an area of 72 hectares and was created in 2006 to restore the natural ecology of the rocky wasteland. The area around the park contains volcanic rock and sandstone formations. There are four trails namely red, yellow, green and blue trail. The park is home for different varieties of species of plants.
There are around 250 different species like Rohido, Kumatiyo, Hingoto, Peelo, Goondi, Kharo Jaal, Kheer Kheemp shrubs and many more. The park is also home for various reptile species. There are around 200 species of birds. Some of the mammals include free ranging dogs, Indian crested porcupine and five striped palm squirrels.
Masuria Hill Garden: 
Masuria Hill Garden is one of the finest gardens in Jodhpur. One can see a panoramic view of Jodhpur city. The garden is quite popular among many devotees as there is an ancient temple which is dedicated to Baba Ramdev. Also, one can see the statue of Veer Durgadas Rathore here.
Gulab Sagar Lake:
Gulab Sagar water storage was constructed by Gulab Rai in 1788. It is believed that it took around 8 years to complete the construction of the Gulab Sagar.
Khejarla Fort:
It is an ancient monument near Jodhpur which is now converted into a heritage hotel. The 400-year-old monument was built in Rajput architecture. It is built on the top of granite boulders with red sandstone.
Shopping in Jodhpur
Shopping in Jodhpur:
No one would like to miss shopping in Jodhpur, Rajasthan. Jodhpur has eight prominent markets where one can enjoy shopping. Here is the list of the markets. It is important to bargain in all the markets.
Clock Tower Market:
It is one of the best markets in Jodhpur to do some shopping in intricate handicrafts, antiques, spices, flavored teas and many more. It is open from 11 am to 9 pm on all days except Sunday. The market is closed on Sundays. It is located in Clock Tower Road, Ghantaghar market.
Nai Sarak:
This market is famous for tie and dye or bandhani or bandhej fabrics. It is the most common and famous fabric of Rajasthan. The beautiful colorful combination on the cloth makes it unique and also comfortable to wear. The market is open from 10 am to 9 pm on all days except Sunday. It is located near Sri Ganganagar, Jodhpur.
Sojati Gate Market:
Shops lined up here offer something for everyone. The market is famous for souvenirs, jewelleries, fabrics, bangles and Rajasthani handicrafts. The market is open from 9 am to 9pm on all days except Sunday. It is located in Tripolia Road, Opposite Daspa House, Rawaton ka Bass, Jodhpur.
Mochi Bazar
This market is famous for Jodhupuri Juthi or Chapal. These leather chappals are available in different colors, patterns and a lot of work on it. These chappals are also called Mojaris and give a royal look when worn with any attire. SOme of the other things one can do shopping here are lace bangles, jewelry. It is located near Korna house road, Bhistiyonka Bas. It is open from 10 am to 9 pm.
Umaid Bhavan Palace Market:
This market is famous for antique and colorful furniture. It is also for metal works, handicrafts, pottery, marble brass, textile, silver jewelry and many more. It is open from 9 am to 5 pm on all days except Monday. The market remains closed on Mondays. It is located near Circuit House Road, Cantt area, Jodhpur
Kapraa Bazar:
It is a clothes market where one can do a lot of shopping of Rajasthani attire known as Leheriya. The design originated in Jodhpur and this unique print is done on dupattas, suits and sarees. Bandhej cloth material is available in abundance in this market. It is one of the best markets to do Rajasthani cloth shopping.
Sarafa Bazar:
This market is famous for silver ornaments and its accessories. One can also do some shopping of leheriya and Bandini material from here. The market is located in Sarafa Bazar, Air force Area, Jodhpur. 
Tripolia Bazar:
This market displays a wide range of wooden handicrafts, metal furniture, marble statues, silver jewelry and artifacts for sale. It is one of the perfect places to do some shopping. One can also indulge in some cloth shopping.It is located in Jodhpur Nice Plaza
Affiliate Disclosure:
If you make any purchase via a link on this site, I may receive a small commission with no added cost to you.