Lake Pichola
Lake Pichola
Quick Facts
Country: India
State: Rajasthan:
City: Udaipur
Timings: 9:30 am to 6 pm
Best time to visit: September  to March
Maximum Length: 4 Km
Maximum width: 3 Km
Created in: 1362 AD
Islands: Jag Niwas, the Jag Mandir and Arsi Vilas.

Update on coronavirus in India
Udaipur is known as "city of Lakes". It  has islands, palaces, temples, and ghats. The delightful view of sunrise and sunset is something that should not be missed by the tourists.

Lake Pichola is an artificial freshwater lake that was created in 1362 AD. The lake is named after the Picholi village. With a dimension of 4 km in length and 3 km in width, the lake has four islands namely Jag Niwas, Jag Mandir, Arsi Vilas and Mohan Mandir.
Three of the other lakes that connect to lake Pichola are Swaroop Sagar Lake and Fateh Sagar Lake. Lake Pichola is one such artificial lake which is at the centre of  Udaipur, Rajasthan India.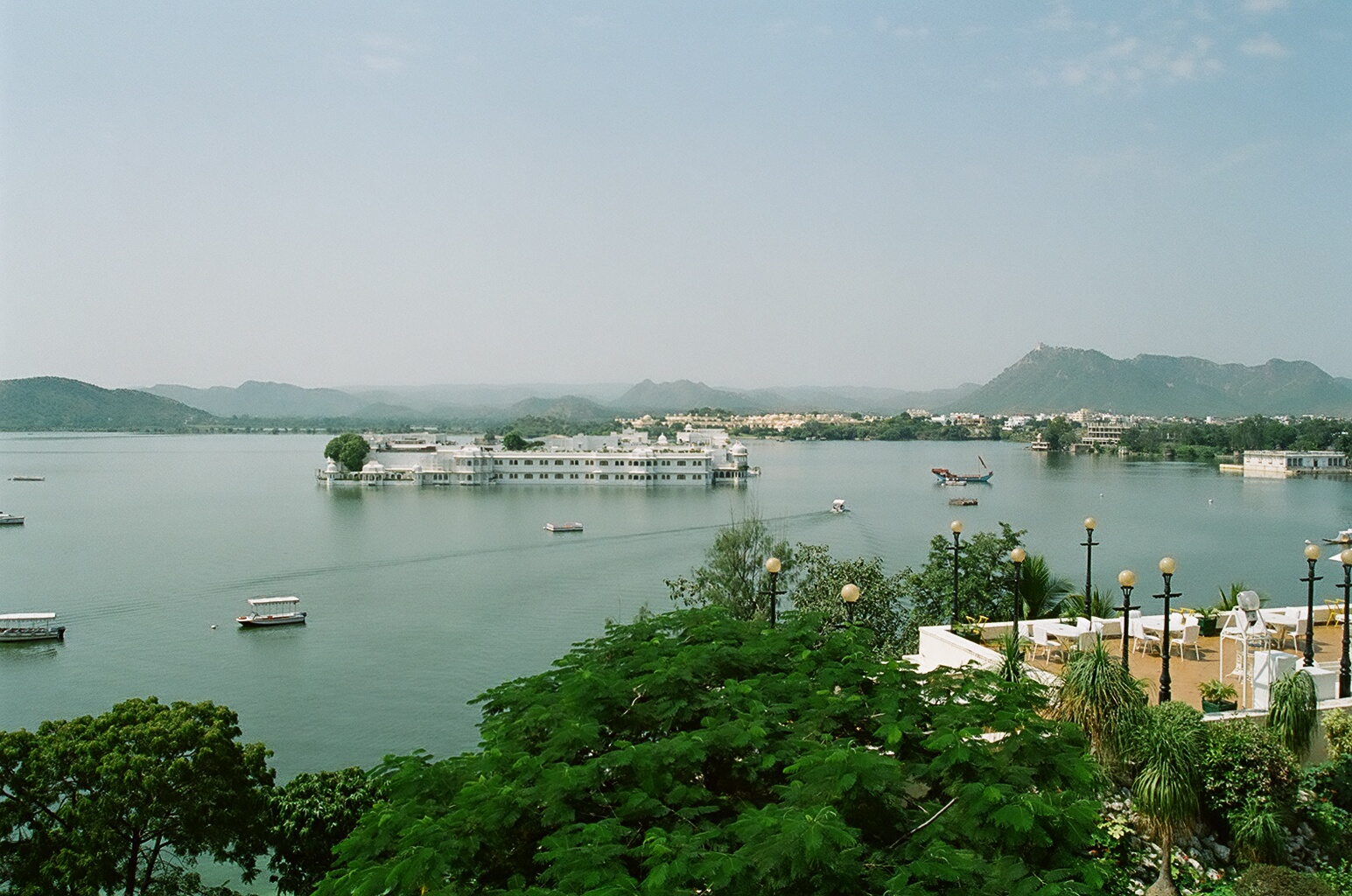 How to reach Lake Pichola
By Air
The Dabok airport also known as Maharana Pratap Airport has daily flights from Delhi, Mumbai. From the airport one can take a taxi and visit different places in Udaipur.

By Train
Udaipur has many direct trains from major cities. Udaipur has two railway stations, Udaipur City Railway station and Rana Pratap Nagar Railway station. Both the stations are well connected to major cities like Delhi, Bangalore, Ahmadabad, Jaipur, Jodhpur, Agra Mumbai and many more cities.

By Road
The city is well connected and easily accessible from the major cities like Delhi, Jaipur, Indore, Mount Abu, Jodhpur, Mumbai, Bikaner and many more cities. One can either drive down from these places or take either government or private buses.

Best time to visit
Udaipur has a tropical climate. The best time to visit the city is from September to March. Udaipur has moderate climate as compared to other places in Rajasthan in spite of the Thar desert.

Seasons/Climate
Winter Season:
It is from November to March. It is the best period to visit the city. The maximum temperature hovers around 30 degree celsius with nights staying pleasant and cool. During the months of December and January the minimum temperature may fall to as low as 5-6 degree celsius. It is good to keep light woolen clothes.

Summer season:
From Mid March to June are the summer months. During peak summer in the month of May and June the maximum temperature may hover around 45 degree celsius and minimum temperature may hover around 25 degree celsius. It is definitely not advisable to visit Udaipur during this season.

Monsoon Season:
July to September are the monsoon months. The city receives scanty rains but it becomes very humid during this period.

History of Lake Pichola
It is believed that the lake was built by Pichhu Banjara during the rule of Maharana Lakha. Later Maharana Uday Singh who was impressed with the beauty of the lake built a dam in Badipol region and also expanded the lake.
Over a period of time several palaces, temples, islands bathing ghats were developed. At several places where the lake narrows down, ornamental arch bridges have been built for easy flow of water between the banks.

Boating in Lake Pichola
One should not miss the boat ride in Lake pichola. Tickets are available in the city palace with a minimal cost. Sunset boating is the most demanding ride as the pristine blue water looks beautiful during sunset.
The boat ride starts from Rameshwar Ghat and first drops the visitors at Lake Palace.  The boat then takes the visitors to Jag Mandir. There are varieties of boats available which tourists can choose according to their requirements.

Islands on Lake Pichola
Jag Mandir:
Jag Mandir also known as Lake Garden Palace is a beautiful palace located on the southern island of Lake Pichola. This massive structure is built in yellow sandstone and marble.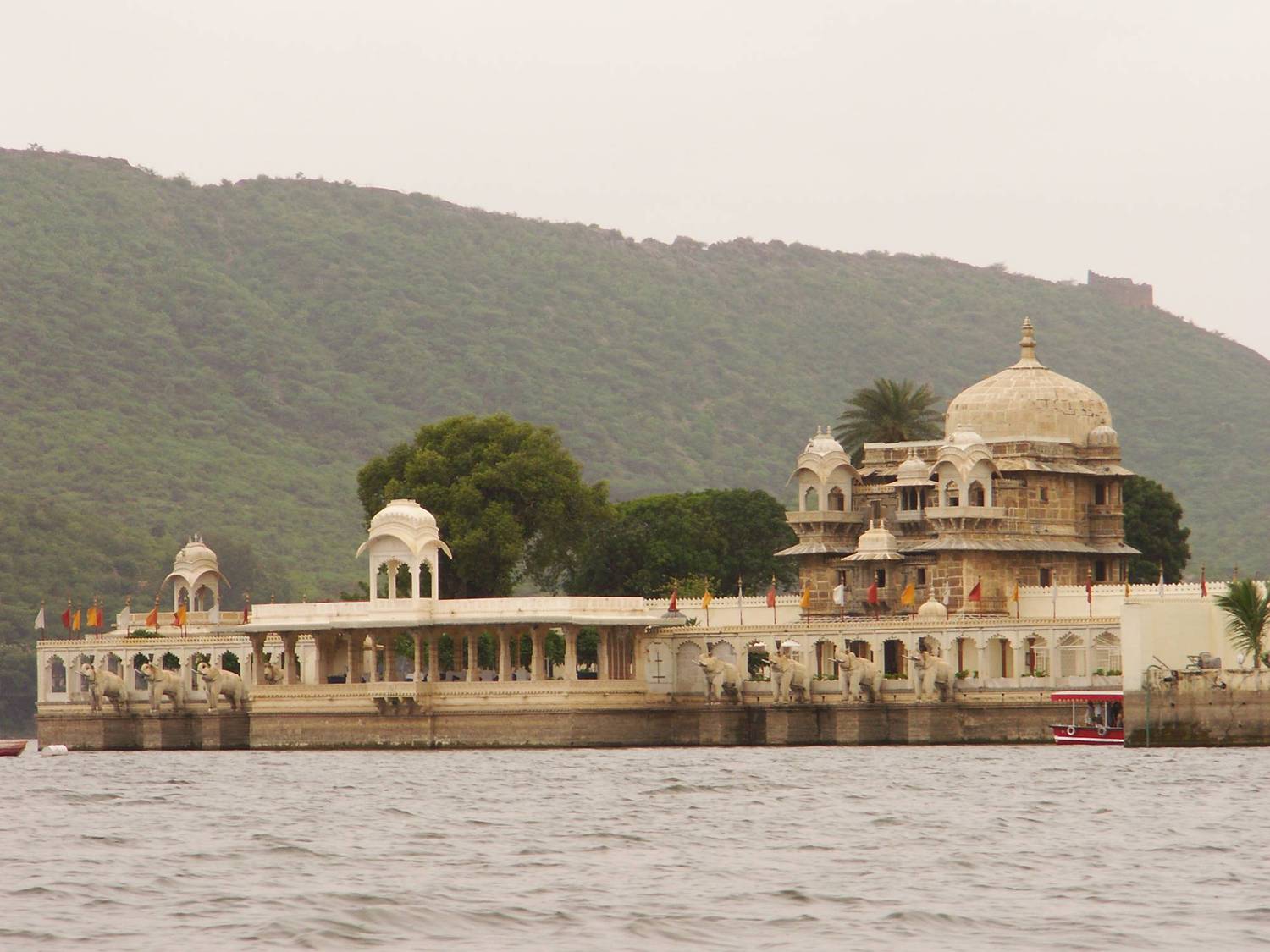 It is a three storied structure which has Gul Mahal, garden courtyard, statues of elephants, Zenana Mahal, Palace of Bara Patharon and Kunwar Pada ka Mahal.
It was used as a summer palace for the royal family.  The construction of the palace was started in 1551 by Maharana Amar Singh, continued by Maharana Karan Singh and finally completed by Maharana Jagat Singh.

During the revolt of 1857 Maharana Swaroop Singh saved many lives of European women and children by giving shelter in Jag Mandir.

Jag Niwas/Lake Palace:
It was a summer palace for the royal family of Mewar. Located on the island of Jag Niwas in Lake Pichola, Lake Palace is now turned into a hotel.
It was built between 1743 to 1746 under the instructions of Maharana Jagat Singh II. The walls are made of white and black marble with semi precious stones.
Between 1930 to 1955 during the rule of Maharana Sir Bhopal Singh constructed another pavilion to the palace. In 1971 Taj group of Hotels and Resorts took control over the  management and added another 75 rooms to the palace.

Mohan Mandir:
Comparatively smaller island, Mohan Mandir was built by Maharana Jagit Singh I between 1628 and 1652. It is located in the northeast corner of lake Pichola.
From here the kings used to watch the celebrations of Gangaur Festival. It is a colorful festival celebrated during the month of March -April.
The women celebrate this festival by praying to Goddess Gauri/ Parvati to bless their husband with good health and long life and also for happiness in her family.

Arsi Vilas:
It is a small palace which served as a place to keep ammunition. It was built by one of the Maharanas of Udaipur basically to enjoy the natural beauty and sunset on the Lake. It is also home for a variety of birds like egrets, ducks, coots, terns and kingfishers.

It is a wonderful place to visit and to do some boating. Do share your experience with us by clicking the link here.

Affiliate Disclosure:
If you make any purchase via a link on this site, I may receive a small commission with no added cost to you.