Jaigarh Fort
Jaigarh Fort
Quick Facts:
Country: India
State: Rajasthan
Located in: Jaipur
Built: 1726
Built by: Sawai Jai Singh
Timings: 9:00 am to 5 pm
Closed on: All public holidays and government holidays.
Address: Above Amer Fort.
Best Time: October to March is considered as the best time to visit Jaigarh fort.
Entry Fee: Rs 150 for Indians and 200 Rs for foreigners. 
Update on coronavirus in India
Jaigarh fort:
Jaipur has three famous forts Amer Fort, Nahargarh Fort and Jaigarh Fort in Rajasthan, India.  Jaigarh fort was built by Sawai Jai Singh-II in 1726. It was mainly built to protect the Amer Fort.  The fort is almost 500 feet above sea level.  Located on a point called as 'Cheel Ka Teela' of Aravalli Hills, one can have a beautiful view of Jaipur, Amer Fort and the Moata Lake. Both Jaigarh fort and Amer fort are interconnected through subterranean passages and are considered as one complex.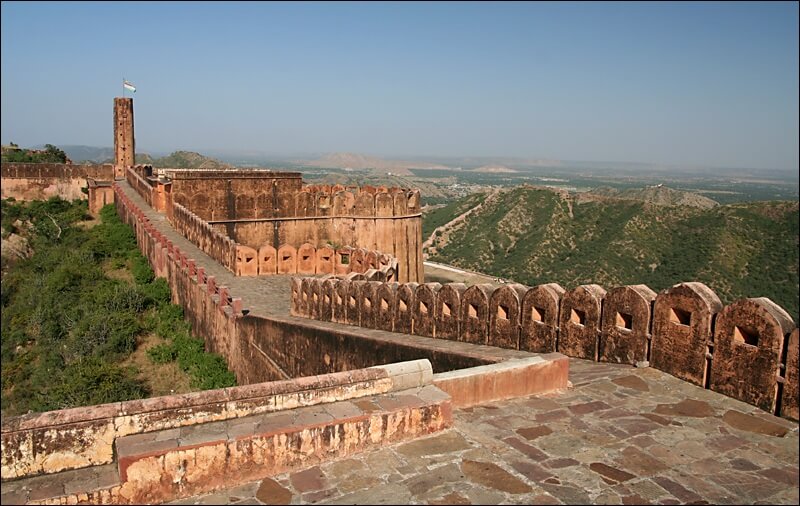 The brain behind this fort is Vidyadhar.  The fort was also used as a storing house of bullets and other arms. Due to the presence of large arms and ammunition the fort became one of the cannon foundries during the Mughal period. This was guarded by Dara Shikoh.
But later after Aurangzeb defeated Shikoh it came under the direct control of Jai Singh-II as per the orders of Muhammed Shah. The fort has a large cannon called Jaivana. Weighing around 50 tons it was then  the largest cannon on wheels. However the cannon was never used in any battles as the Rajputs maintained friendly relations with Mughals.  Some of the other attractions within the fort are Lakshmi vilas, Latlit Mandir, Aram Mandir and Vilas Mandir.
Both Amer and Jaigarh fort are interconnected with fortifications. During the rule of Mughal Emperor Shah Jahan, Jaigarh fort became the main cannon foundry due to the large presence of iron ore mines near the fort. The fort was also used as a store to keep ammunition and also other metals required for war. The fort had a huge tunnel which sucked air from the high mountains by creating high temperatures which would help to melt the metal.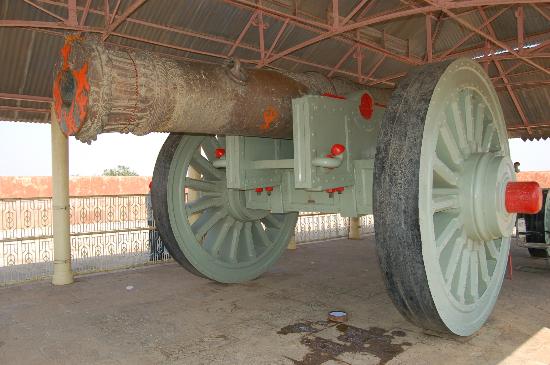 Later this molten metal would be filled in the chambers and transferred into a cannon mold in the pit. Dara Shikoh took the control of the cannon outpost when the Mughal war of succession broke in 1658. However, he was defeated and executed by his younger brother Aurangzeb.
Architecture of Jaigarh Fort
The fort is highly fortified with thick walls built of red sandstone.   The wall is spread over a length of 3 km and is around a kilometre wide. Inside the fort one can have a look at some of the impressive buildings like Laxmi Vilas, Lalit Mandir, Vilas Mandir, Aram Mandir, armoury (this has a huge display of arms, like swords, shields, guns that were used during war times) and museum (displays paintings and photography of royal family, stamps and many artifacts that were used during the maharaja's period).
Both the Jaigarh fort and the Amer fort are interconnected and are considered as one complex. The fort is built in Indo- Persian style architecture with huge walls being plastered with lime mortar.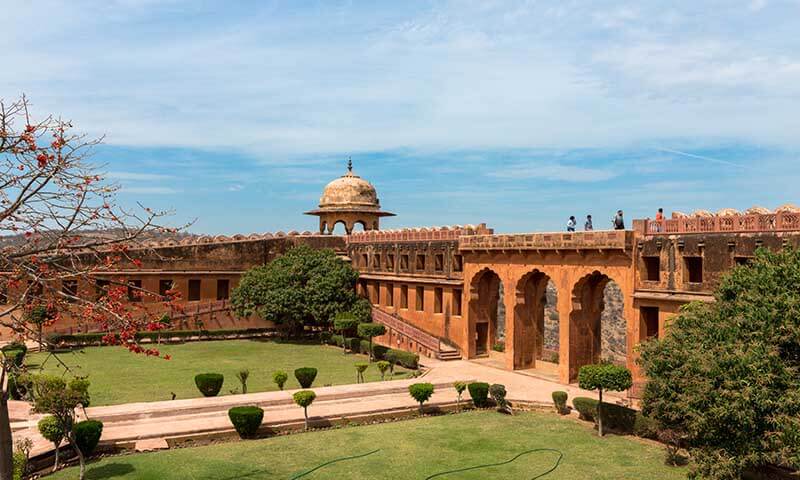 The fort consists of two temples one is Kal Bhairav temple built in 12th century and the other is Ram Harihar temple built in 10th century. To prevent water scarcity in the fort, large underground water tanks are built which has a capacity to store up to 6 million gallons. 
The fort is open from 9:30 am to 5pm. Photography is allowed at all forts. Best time to visit is from October-March when Rajasthan experience pleasant climate.
The palace had courtrooms and halls which had masked windows. Probably masked windows were acting as a protection and also no intruder could see from outside. It also has a central watch tower which gives a beautiful view of the surrounding landscape.
The courtyard had Aram Mandir and garden on the northside of the fort. The entrance to the Aram Mandir is through Awani Darwaza which has a triple arched entrance. The Awani Darwaza which was renovated recently to get an excellent view of the Sagar lake . Earlier water from this lake was transported to the fort on the elephant backs and also carried through water pots by many people.
The water supply to the fort was done by creating water harvesting near the Aravali catchment areas. Later the collected water was transferred through canals which was on the western side of the fort. The largest tank had a capacity to store around 6 million gallons of water.
The fort consists of the Armoury chamber which consists of swords, shields, guns and also a 50 km cannonball.
How to Reach Jaigarh Fort
How to Reach
Jaipur is the most important tourist destination in India. It is well connected through Air, Rail and Road.
By Air: Jaipur International airport is in Sanganer. It is located at a distance of around 10 km from the city centre. It has both domestic and international flights.
By Train: Jaipur is the headquarters for the Northwestern Railway zone of Indian Railways. Jaipur has three railway junctions at Gandhinagar, Durgapur and Jaipur Main. The city is well connected through rail from major cities like Delhi, Mumbai, Chennai, Bangalore, Kolkata and many more.
One can also plan to go in the luxury "Palace on Wheels train". It is 7 nights and 8 day's journey which starts from Delhi and covers cities like Jaipur, Ranthambore tiger reserve, Chittorgarh Hill Fort, Udaipur, Jaisalmer, Jodhpur, Bharatpur Agra and then returns to Delhi.
By Road: Jaipur is located on NH-8 which connects to Delhi and Mumbai. It is also connected through NH- 11 and NH-12.  There are a number of buses both from the state road transport corporation and private agencies.
Best time to visit
Best time to visit: 
Jaipur experiences a semi arid climate with long hot summers and short mild winters. Due to extreme heat, October to March is the best season to visit the place.
Climate/Seasons
Summer season: Summer months are from April to June. The maximum temperature hovers around 49 degree Celsius.  It would be very hot and dry during this period. Hot and dry air keeps blowing throughout the day as even the minimum temperature hovers around 30 degrees Celsius
Monsoon seasons: the months of July and August are considered as monsoon months. There are frequent heavy rains but no flooding. The maximum temperature hovers around 40 degrees Celsius during this season
Winter season: October to March are the winter months and also the best period to visit the place. These months are pleasant, dry and chill with minimum temperature sometimes falling to 4 degrees Celsius during peak winter months of December and January
Affiliate Disclosure:
If you make any purchase via a link on this site, I may receive a small commission with no added cost to you.