Bikaner Tourism
Quick Facts:

Bikaner Tourism
Country: India
State: Rajasthan
District: Bikaner
Best time to Visit: October to March
Tourist places:  Junagarh fort, Laxmi Niwas Palace, Karna Mata temple, Laxminath temple and many more.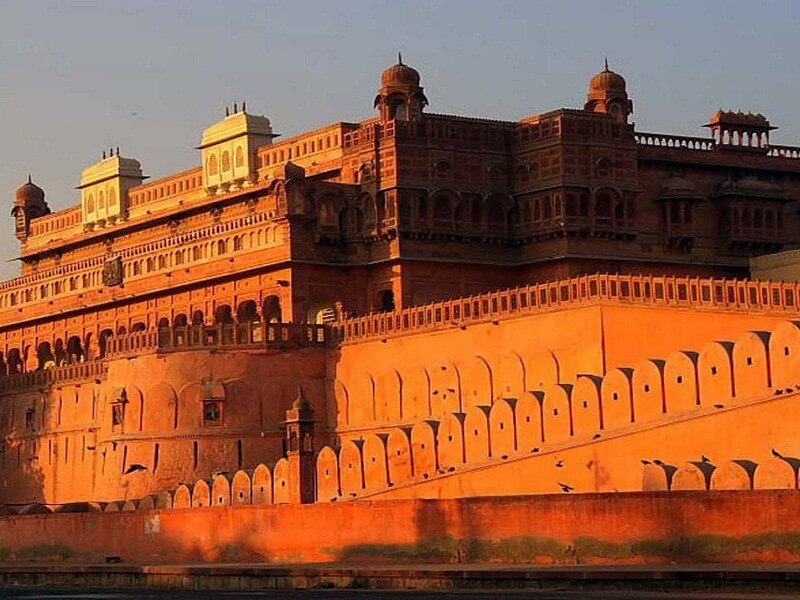 Update on coronavirus in India
Bikaner is an important city located in the northwest of Rajasthan, India. The city will mesmerize all the tourists with massive forts, sand dunes, ancient palaces, forts, temples. Bikaner is famous for hosting a "camel festival" in the month of January. 
Rao Bika Rathore established the city of Bikaner in 1488 AD. He was the son of Rao Jodha. Earlier the place was known as "Jangladesh". Before the invasion by Rao Bika the place was under the control of Jat communities. Bika along with 300 Rajput army defeated the Jat clans and took control over the place. He later transformed it into beautiful city called Bikaner.
How to Reach Bikaner
By Air: Bikaner has a Domestic Civil Airport. From here regular flights are available to both Jaipur and Delhi. Other than this Jodhpur airport is the next nearest airport.  It is well connected to major cities across India.
By Rail: Bikaner Railway Junction is one of the major Junction in the Northwestern Railway zone. It is well connected to major cities like Delhi, Jaipur, Jodhpur, Bengaluru, Hyderabad, Chennai, Pune and many more.
By Road: Bikaner has very well-established road connections to major cities within Rajasthan and to major cities in India. Both private and public buses are available to Delhi, Agra, Surat, Indore, Bilaspur and many more.
Distance from major cities
Jodhpur to Bikaner - 250 Km 
Jaipur to Bikaner - 334 Km 
Delhi to Bikaner - 440 Km
Udaipur to Bikaner - 465 Km 
Agra to Bikaner - 560 Km 
Jaisalmer to Bikaner-319 km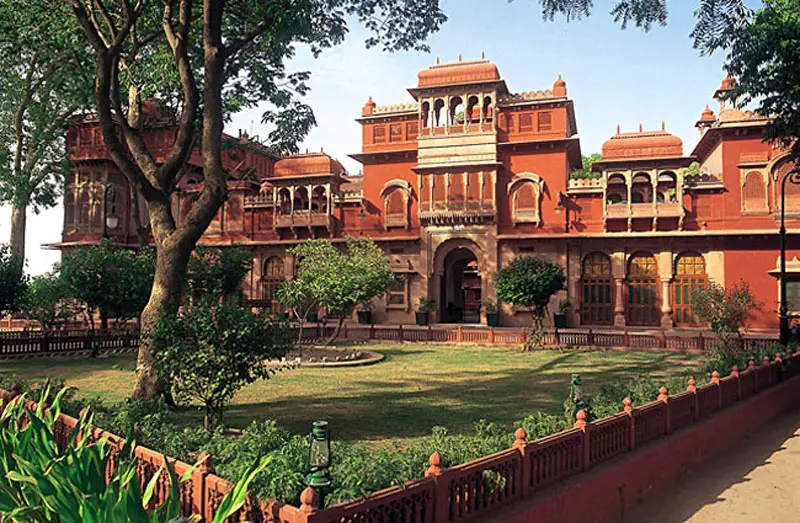 Best time to visit Bikaner
Since Bikaner is situated in the middle of the Thar desert, the place experiences extreme climatic conditions. October to March is the best time to visit Bikaner.
Climate/ Seasons
Bikaner is situated in the middle of Thar Desert. Summers are extreme;y hot and winters are cold with very less rainfall during the rainy season.
Summer Season: March to June are summer months. The maximum temperature hovers around 48 degrees Celsius during peak months of May and June. It is safe to stay at home during the daytime in summer.
Monsoon season: July to September are monsoon months.  The maximum temperature may hover around 40 degrees Celsius. Rainfall is moderate during the monsoon months.
Winter Season: October to February are the monsoon months. The minimum temperature may go below freezing. The temperature ranges around 23 degrees to 4 degrees Celsius. This period is considered as the best period to visit this wonderful city.
History of Bikaner
Before Bikaner came into existence, it was called Jangladesh which was a barren land in the middle of Thar desert. Jangladesh was ruled by Jat communities. Rao Bika established the beautiful city Bikaner in 1488. He was the son of Rao Jodha of Rathore Rajput clan. Rao Bika along with 300 Rajput army defeated the Jat clans and took control over the place.
He later transformed it into a beautiful city called Bikaner. Rao Jodha was the founder of Jodhpur city. Rao Bika who wanted to be independent thought of establishing his own city rather than inheriting Jodhpur from his father. It is believed that Rao Bika left the palace in anger after hearing stray comments from his father.
Even though the city is in the middle of thar desert, still it was considered as an Oasis between Gujarat and central Asia due to availability of  sufficient spring water. Rao Bika built a fort in 1478 which is in ruins now. Later Junagarh fort was built very close to the old fort.
During Mughal rule in India, Raja Rai Singh accepted the suzerainty of Mughals. Rai Singh ruled from 1571-1611 and during his rule he was able to win more than half of the Mewar Kingdom to the Mughals. This kept him in the good books of the Mughals. As a reward he was given lands in Gujarat and Burhanpur. From these lands he earned huge revenue from which he built Junagarh fort. He built various monuments in Junagarh fort.
Maharaja Karan Singh ruled from 1631 to 1669 under the shadow of Mughals. He built Karan Mahal Palace. Later kings added more floors to the palace. Later Maharaja Gaj Singh revamped the Chandra Mahal.
After Maharaja Gaj Singh, it was Maharaja Surat Singh who ruled from 1787 to 1828. Later many rulers came and ruled the city.  The Royal family still lives in a suite in Lalgarh Palace which is converted into a heritage hotel.
Bikaner Tourism-Places of Interest
Bikaner has many places of Interest to enjoy. Some of the best places are the Junagarh fort, Gajner Palace, Laxmi Niwas Palace, Karni Mata temple, Rao Bikaji Fort,  Laxminath temple. Tourists can also visit many temples in Bikaner. If you are visiting in the month of January, then do enjoy the camel festival. It is organized by the Department of Tourism, art and culture.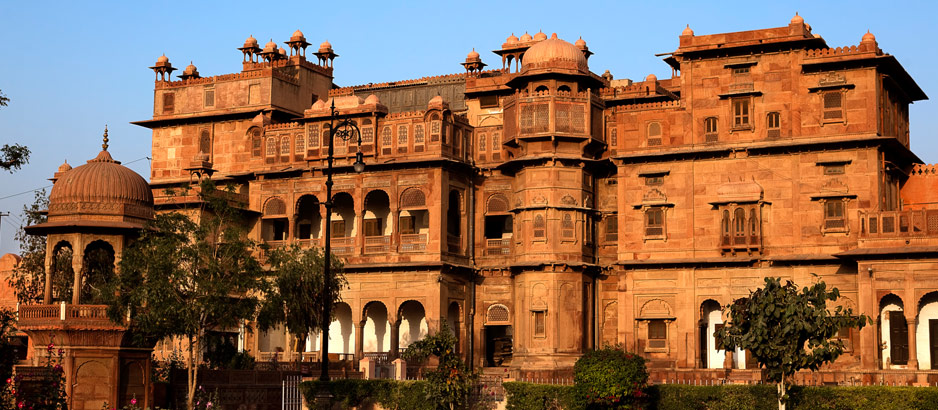 Junagarh Fort: 
Address: Junagarh Fort Road, Bikaner
Timings: 10 am to 4:30 pm on all days.
It is a massive fort built by Raja Rai Singh in 1594 AD. Earlier it was known as "Chintamani.'' Later it was renamed as the Old Fort or Junagarh Fort.  Like many forts in Rajasthan this fort is not built on Hill top. Spread over an area of 5.2 hectares, the fort consists of temples, palaces and pavilions. The beautiful structures inside the fort are made of red sandstone and marble.  The palaces are built grandly with windows, balconies and courtyards. The temples and the places are still preserved as museums which clearly shows the grand lifestyle of Maharajas of Rajasthan.
The fort has seven gates. Earlier entry to the fort was Karan Pol. But now the entry is Suraj Pol. The gates are built in yellow sandstone. Other than Karan Pol and Suraj Pol, other gates are Daulat Pol, Chand Pol, Fateh Pol. There is a museum inside the fort called Junagarh Fort museum established in 1961. The museum displays manuscripts written in Sanskrit and Persian, miniature paintings, jewels, royal costumes, portrait galleries, headgear,war drums, armoury and many more. Indian history is so wonderful and has so much to learn. It's truly worth watching Junagarh fort.
Gajner Palace:
The palace is built on the banks of the Gajner lake. It was built by Maharaja Ganga Singh as a hunting lodge for him and his family. Now it is converted into a heritage hotel. The Palace is in the midst of thich forest which helps the migratory birds and other birds to come and make its home in the garden of the palace. Spread over an area of 6,000 acres one can enjoy boat ride, desert safari, nature walk, rich old Maharajas suites and many more. 
Built is a classic Rajasthani architecture and the structure forms are inspired by Jain and Mughal architecture. The palace is covered with Jarokas, Chattris and Jaalis. The property spread over four wings namely Gulab Niwas, Champa Niwas, Dungar Niwas and Mandir Chowk.
The palace is just around 3 km from the Gajner Railway Station hence could easily be reached by taxis or cab.
Karni Mata Temple:
Karni Mata Temple or temple of Rats is dedicated to Hindu Goddess Karni Mata. She is the deity of Royal families of Bikaner and Jodhpur. It is located in the town of Deshnoke which is 30 km from Bikaner. In the temple complex there are around 20, 000 rats. These black rats are known as Kaba which are considered as holy and are treated with utmost care and respect by the devotees.
The temple gets huge pilgrims from all over the world especially for charani sagatis. The construction of the temple was completed in the early 20th century in Rajput architecture by Maharaja Ganga Singh of Bikaner. The marble facade has strong silver doors which were built by Maharaja Ganga Singh. All across the temple there are many silver doors with panels which depict various stories of the Goddess. The temple is open from 4 am onwards on all the days and closes by 10 pm.
Lalgarh Palace:
It is a heritage hotel built by Maharaja Ganga Singh between 1902 and 1926. The palace is built in Indo Saracenic style and was commissioned during British rule in India. The palace was constructed under two courtyards. The first Laxmi Niwas Palace was completed in 1902. The remaining three wings were completed in different stages and the last one was completed in 1926. The complex has a drawing room, smoking room, guest suites, pavilions, lounges and many more. The palace is open from 10 am to 5 pm
Bhandasar Jain temple:
It is an ancient temple constructed in the 12th century by Bhandasa Oswal. It is dedicated to Sumatinatha, the fifth thirtankara in Jainism. It is a three storey temple decorated with beautiful frescoes, leaf paintings, ornamented mirror work and beautiful architecture. The temple consists of garbhagriha, mahamandapa, ardhamandapa and antarala. The temple is under the survey of Archeological Survey of India.
Gajner Lake:
Gajner lake is part of Gajner palace. The lake is filled with thousands of migratory birds during the winter season. Being covered with thick forest, this place along with Gajner Palace is considered as one of the best places for vacation. One can enjoy a boat ride in the lake.
Rampuria Haveli:
It is one of the most famous havelis in Bikaner other than Daga Chowk Haveli, Haveli of Bhairondan and Rikhji Bagri. According to Aldous Huxley, this haveli is the " the pride of Rajasthan." It is believed to have been constructed in the 15th century by Balujee Chalva. Bikaner was an important place for the traders and hence making huge havelis became common here. Balujee was given instructions to build royal and elegant mansions for the wealthy merchants who came to Bikaner to do trade.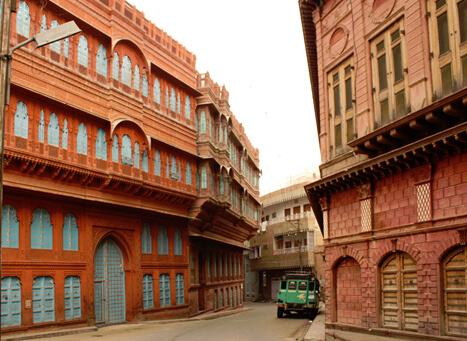 The haveli is constructed in Dulemera red sandstone as base material. The inner halls and rooms are decorated with gorgeous art. The decor consists of paintings and artefacts made of fine woods. There are around 20 guest rooms which are unique and different.
Prachina Museum:
It is a cultural center of Bikaner which was established around 2000 by Siddhi Kumari who is the daughter of Late Maharaja Narendra Singhji. It is a crafts museum which exhibits royal costumes, textile, portraits of former rulers, art, religious accessories and many more.  The museum also displays crockery, carved wooden furniture, cutlery, ethnic carpets, jail rugs and many more. It is open to the public from 9 am to 6 pm on all days.
Royal Cenotaphs:
Royal Cenotaphs is the burial place of many royal family members of Bikaner. Various cenotaphs are built in their memory. The earliest cenotaph is the Rao Kalyanmal who was the ruler of Bikaner from 1542 to 1571. The last cenotaph is of the Maharaja Karni Singh who ruled from 1950 to 1988 AD. It is near Sagar Road, Ridmalsar, Bikaner.
Kodamdeshwar Temple
It is an old temple built by Rao Bhikaji and is dedicated to Lord Bhairon. Built in white marble the temple is located 24 km from the city center. The temple is near Gajner, Bikaner.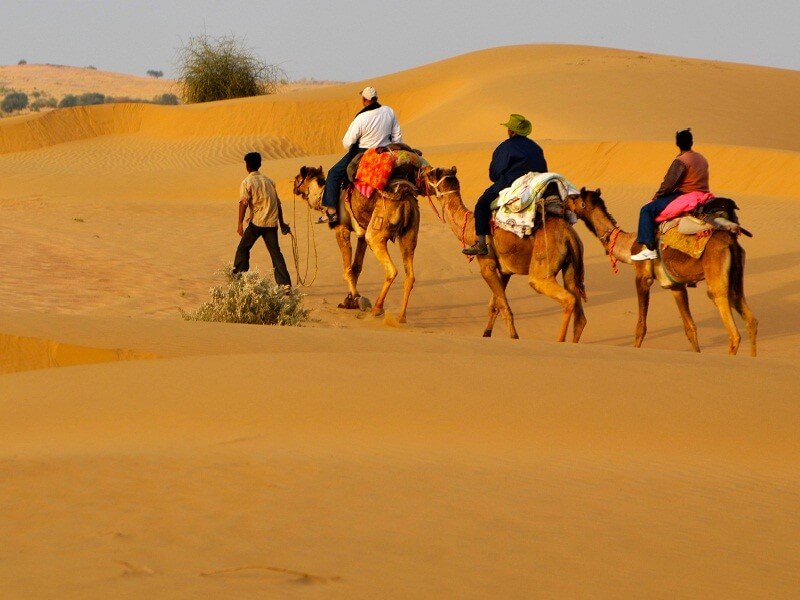 Sand Dunes Safari:
Safari on a thar desert is one of the wonderful experiences one should not miss. A different variety of birds and animals can be witnessed during the safari. Some of them are snakes, Great Indian Bustard, Indian Gazelle, Blackbuck, Saw scaled Viper and many more. It is also home to migratory vultures. Gajner Wildlife Sanctuary is located at 32 km west of Bikaner. One can enjoy the beautiful view of sunset here.
Shiv Bari temple:
Located just 6 km from Bikaner, this temple is dedicated to Lord Shiva. It was built in the 19th century  by Maharaja Doongar Singhji in red sandstone. There are two large water reservoirs known as Bawaris. The wall of the temple is decorated with a beautiful painting of Nandi Bull facing Shiva Lingam.  The idol of Lord Shiva is made up of Black stone. The temple is open from 7 am to 7 pm on all days.
Shri Laxminath temple:
It is one of the oldest temples in the city built by Maharaja Rao Lunkaran in the 14th century. The temple is dedicated to Lord Vishnu and Goddess Laxmi. The entrance door is beautifully decorated with silver work. The temple is open from 5am to 1pm and 5 pm to 11pm on all days. Some of the important festivals that are celebrated here are Nirjala Ekadasi, Gita Jayanti, Rama Navami and Janmastami. It is located in Vaidya Mangaram Colony, Bikaner, Rajasthan India.
Kote Gate:
It is one of the busiest places in Bikaner with shops selling's various Rajasthani products. It is considered as the entrance gate to Bikaner as one can get a glimpse of the old city of Bikaner. It is a huge structure which separates the old city from the new city.
National Research Centre on Camels
It was established in 1984 by the central government under Indian Council of Agricultural Research. Some of the important objectives of the Centre is Camel breeding and health, utilisation of camel milk and its by-products. It is located near the Jorbeer area of Bikaner city.  The farm has around 300 varieties of camels of Bikaneri, Jaisalmeri, Mewari and Kachchhi breeds.
Fairs and Festivals
The International Camel Festival is held every year in the month of January. It is celebrated to show honour to the Ship of the Desert. The festival includes camel rides, camel races,camel dance and many more things.
Truly Bikaner is one of the best places to visit and enjoy the Rajasthani culture and cuisine.
Bikaner is located in Rajasthan State of India.
Some of the important tourists' places in Bikaner are Junagarh fort, Laxmi Niwas Palace, Karna Mata temple, Laxminath temple and many more.
Best time to visit is from October to March. Later in summer it is really difficult to travel.
Yes, It is easily accessible by rail, road and air. Check out our How to reach section.
Affiliate Disclosure:
If you make any purchase via a link on this site, I may receive a small commission with no added cost to you.