Tadoba National Park
Tadoba National Park
Quick Facts:
Country: India
State: Maharashtra
Safari Timings 6 am to 10 am( entry till 8 am)  and 3 pm to 6 pm (entry till 4:30 pm)
Best time to visit: November to June
Open to visitors: 15th October to 30th June, closed on Tuesdays
Nearest city: Chandrapur district, Maharashtra
Governing body: Maharashtra Forest Department
Update on coronavirus in India
Tadoba Andhari Tiger Reserve is a tiger reserve located in Chandrapur District of Maharashtra India. The tiger reserve includes both Tadoba National Park and Andhari Wildlife Sanctuary. It is one of the oldest and the largest National Parks in Maharashtra, India. Spread over an area of 625 square kilometres, the Tadoba Andhari Tiger Reserve was created in 1955.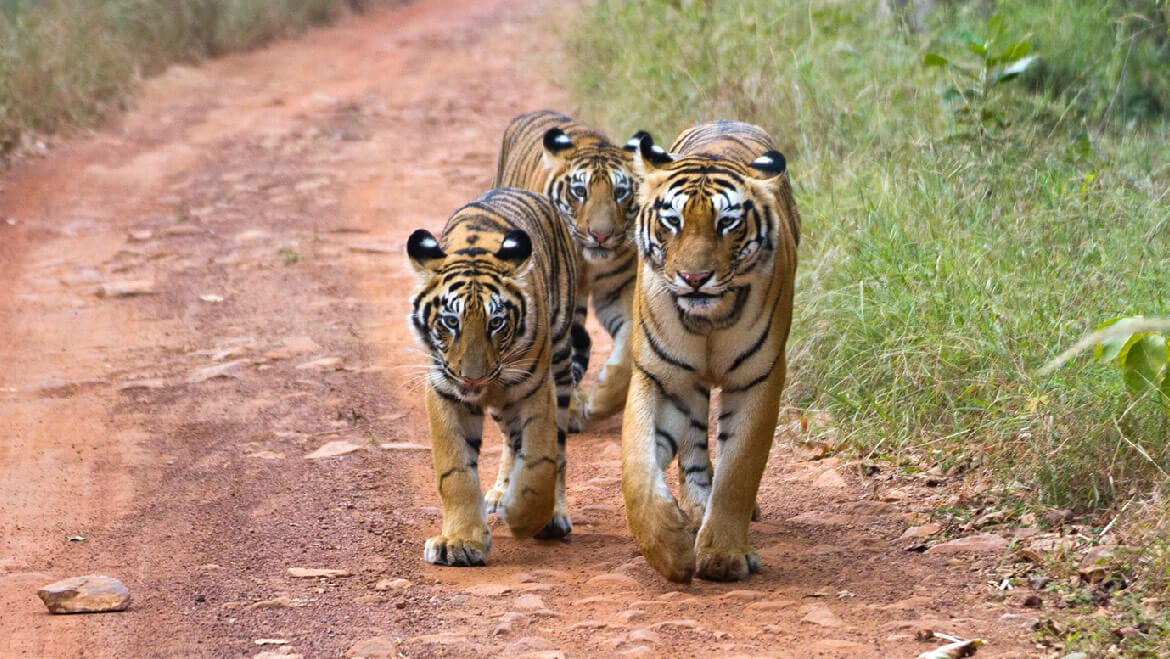 Tadoba National park is surrounded by hilly terrain on the north and west side and pristine Tadoba lake at the centre of the park. The greenery in the park and interesting flora and fauna makes it one of the most important destinations for the tourists. Other than tigers one can wild animals like panthers, hyena, sloth bear, barking deer,Chinkara and many more. Tadoba is  a dry deciduous with teak and bamboo with marshlands, and some grasslands.
Best time to visit Tadoba National Park
The best time to visit the National Park is from November to June. Post monsoon and the summer season are the best periods to visit where there are high chances of spotting the tiger and other wild animals. Core zone remains closed in the monsoon season. But the buffer zone is open during the monsoon season.
Climate at the park
Summer Season: Summer season is from March to June. It is very hot and the temperatures go up to 45 degree Celsius. The terrain remains mostly dry and sultry.
Monsoon season: Monsoon season is from July to September. The park remains closed during this period.
Winter season: Winter season is from November to February. The weather remains pleasant with temperature hovering around 25 degrees Celsius. It is the good time to visit the park with beautiful, lush greenery all around in the park.
Safari Timings
The safari ride in Tadoba National Park offers an opportunity to explore the wildlife in the park. Please note the park remains closed on every Tuesday and from June to October. It is one of the finest places to see the Royal Bengal Tigers. The park has Jeep Safari and the Safari timings change according to the seasons . The Jeep Safari is accompanied by a well trained guide and a driver. There are three zones in the Tadoba National Park.
 Tadoba is divided into three zones. Each zone is accessible by different gates.
Moharli Zone: This is the most important one for tiger spotting and has good accommodation facilities.
Tadoba Zone: Offers beautiful scenic locations to the tourists. It is accessible from four gates Moharli, Navegoan,Kolara and Khutwanda.
Kolsa Zone:Spotting of wild animals is comparatively low in this zone. 
Entry Gates at Core Zone
Moharli Gate :Moharli Gate is the most visited entrance gate to the park and the oldest one.  Nine vehicles are allowed inside morning and evening. SO total 18 safari is done in this gate.

Kolara Gate: Kolara Gate allows daily nine tiger safaris each morning and evening. 

Khutwanda Gate:  Every day 4 tiger safaris are allowed each in morning and evening.

Navegaon Gate: Navegaon Gate is considered as one of the best entry gates in the core zone. This gate is easily accessible to other areas of the forests. 

Zari Gate:. Zari gate offers six safaris each morning and evening for tiger safari 

Pangadi Gate: There are two safari each morning and evening equal to the 4 tiger safaris in a day.
Entry Gate at Buffer zone
Agarzari Gate: Agarzari Gate is one of the best gates in the buffer zone and interconnected with many ranges. 

Devada-Adegaon Gate: Devada-Adegaone is an amazing buffer zone for bird lovers. One of the best birding hotspots for tourists 

Junona Gate: Another important gate in buffer zone

Ramdegi-Navegaon Gate: Ramdegi-Navegaon is one of the best buffer zones where you have relaxing morning and evening tiger safaris. 

Madnapur Gate: Spotting tigers here is good enough.It is one of the amazing buffer zones where Zunabai female tigress is popular here. Zunabai has two kids now.

Mamla Gate: This gate in the buffer zone can spot various animal sightings. 

Pangadi Aswal Chuha Gate: Pangdi gate entry leads your way to the best view.

Sirkada Gate: Sirkada Gate is in the buffer zone and offers many good sightings. 

Zari/Peth Gate: Zari/Peth buffer zone is amazing and everyday an average number of safaris are available here. 

Palasgaon Gate :. It has a morning and evening safari and night safari. 

Kolara Chauradeo Gate: Kolara Chauradeo gate is in a buffer zone yet the chance of tiger spotting here is good enough. 

Kesalghat: Kesalghat safari gate has chances of tiger sighting high

Nimdela – Ramdegi: New gate added in the buffer zone

Belara Gate: Tiger safari to the Belara Gate in the buffer zone will not let you regret as maximum sightings can be enjoyed here. One can see female tiger Veera with her cubs here

Alizanza Gate: Alizanza buffer gate is not very far from Airport. Sightings are easy as it has many tigers.  Chota Matka tiger is in this zone.

Adegaon Gate: Adegaon Gate has availability of daily safaris in morning and evening.
Timings:
From 1st oct to 30th June.
Morning Safari Ride: entry time for the safari ride is in between 6am to 8 am and exit time is 10 am.
Evening Safari Ride: entry time for the safari ride is in between 2:30 pm to 4:00 pm and the exit time is 6:30 pm
From 1st Dec to 28th/29th feb:
Morning safari Ride: Entry time  from 6:30 am, to 8:30 am and exit is at 11 am.
Evening Safari Ride: entry time from 2:00 pm to 3:30 pm and exit is at 6:00 pm.
From 1st March to 30th April
Morning safari Ride: entry time from 5:30 am to 7:30 am and exit time is 10:00 am
Evening Safari Ride: entry time from 3:00 pm to 4:30 pm and exit time is 6:30 pm
From 1st May to 30th June
Morning safari Ride: entry time from 5:00 am to 7:00 am and exit time is 9:30 am.
Evening Safari Ride: entry time from 3:30 pm to 5:00 pm and exit time is 7:00 pm.
Flora and Fauna in the park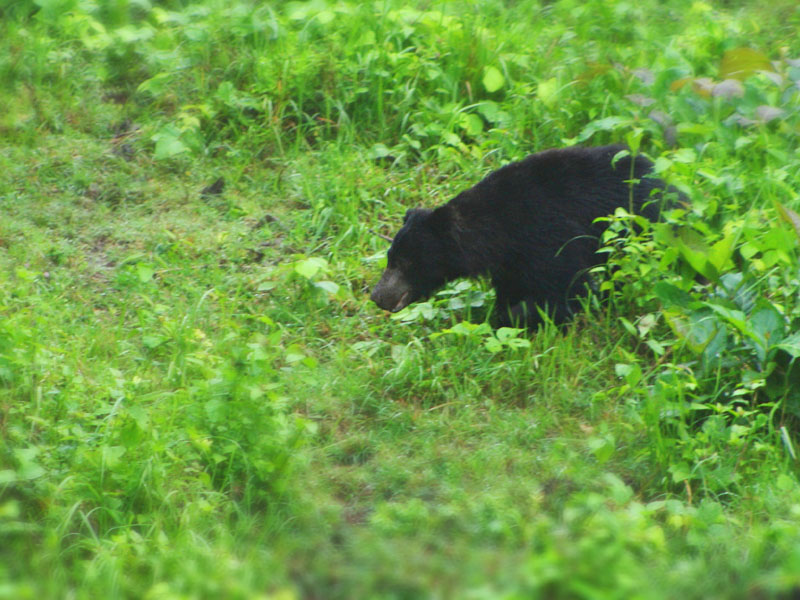 Tadoba is predominantly a dry deciduous forest with around 87%  is dominated by trees like teak, bamboo, bija, dauda,tendu,salai,baheda, hirda,mahua, black plum and arjun. There are around 141 species of trees and  plants in the park which consists of scrubs, herbs and grasses. There are also many medicinal plants here like neem, Bija, Beheda, Kach Kujali and some other trees. Bamboo is grown in abundance here due to the suitable climatic conditions.
Fauna: 
Other than the Royal Bengal Tiger, there are many mammals, reptiles, and birds in the park. Some of the mammals that are present here are the Indian leopard, sloth bear, nilgai, dhole, striped hyena,barking deer, sambar deer, small Indian civet and many more.
Tadoba lake has marsh crocodiles. Among the reptiles that are found here are python, Indian star tortoise, Terrapins,Indian cobra and Russel viper. The park is home for around 175 bird species. The chirping sound of the birds relaxes the minds of the tourists.
Some of the birds include crested honey, grey headed fish eagle, Indian pitta, mormons, golden backed woodpecker and many more. One can see different colourful butterflies, insects like giant wood spider and red wood spider, crab spider, lynx spider to name some.
How to reach
Tadoba National park is easily accessible through air ,road and rail.
By air: The nearest airport is the Dr Babsaheb Ambedkar International airport in Nagpur. Nagpur is around 140 km from Tadoba. One can hire a taxi from Nagpur to reach the place.
By Rail: Chandrapur Railway station which is around 45 km from the park is the nearest railway station. Chandrapur Railway station is well connected to all the major cities in India. Taxis and buses are available from the railway station to reach the tiger reserve.
By road: Chandrapur and Chimur which are at a distance of 45 km and 32 km are the nearest bus stops. There are many private and government vehicles to hire.
Affiliate Disclosure:
If you make any purchase via a link on this site, I may receive a small commission with no added cost to you.