Simlipal National Park
Simlipal National Park:
Quick Facts
Country: India
State: Odisha
Famous for : Tigers, Asian Elephant, Gaur, Chausingha
Best time to visit: November to April
Established in the year: 1980
Park remains open from :  October to mid June
Update on coronavirus in India
Simlipal National Park derives its name from simul (silk cotton) tree is a national park and tiger reserve. It is located in Mayurbhanj district of Odisha, India. The park was established in 1980 and is famous for Bengal tiger, Asian elephant and many more. The area was once a hunting place for the rulers of Mayurbhanj.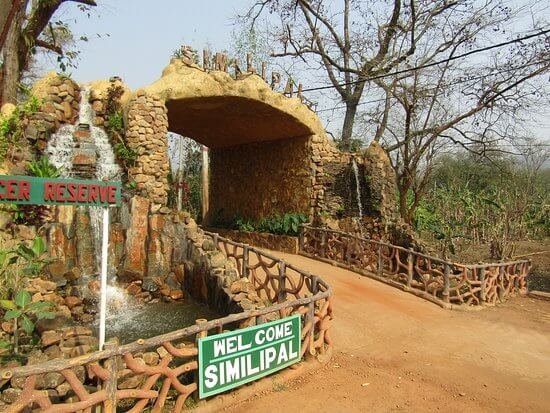 Spreading over an area of 2750 square kilometres, the park is part of Mayurbhanj Elephant Reserve. It has three protected areas namely Simlipal Tiger Reserve, Hadgarh Wildlife Sanctuary and Kuldiha Wildlife Sanctuary.  In 2009 the park became a part of UNESCO World Network of Biosphere Reserves.

Climate at Simlipal National Park
The park enjoys three main seasons: summer, monsoon and winter season.
Summer season: March to May are the summer months with maximum temperature hovering around 40 degree celsius. Summer months are pretty hot and humid here.
Monsoon season: June to October is the monsoon season. The park receives moderate to heavy rainfall during monsoon season.
Winter Season: November to March are considered as winter months with minimum temperature hovering around 14 degree celsius. Winter is considered as the best season to visit the park.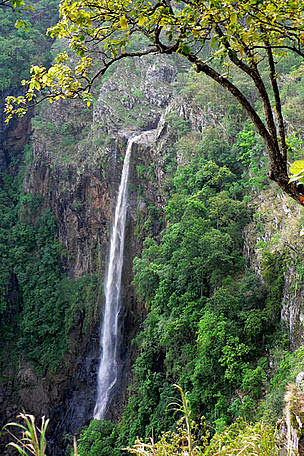 How to reach
By Air: The nearest airport is the Bhuvaneshwar airport which is at a distance of 270 Kilometers and Kolkata which is at a distance of 240 kilometers. Driving down from both airports is possible. However driving from Kolkata is the most preferred option for the travellers.
By Rail: The nearest railway station is Balasore which is at a distance of 60 kilometers. 
By Road: Baripda is the easily accessible point to reach the park. It is located at a distance of 270 kms from Bhabaneswar, 240 kms from Kolkata , 55 kms from Balasore and 16 kms from Pithabata. Pithabata is the entry point and the other entry point is Jashipur which is at a distance of 97 kms from Baripada. Regular government and private buses are available from the entry points. One can even hire a taxi or a cab and drive down to park.
Safari Timings
Jeep Safari is considered as the best way to explore the park. Other than Jeep Safari tourists are also allowed to take their own private Sports Utility Vehicles.
No other car is permitted. However one has to take permission from the concerned person at Jashipur or Pithabata tourists counter. The Jeep safari is accompanied by a guide and a driver. Apart from guide and driver six adults and 2 children can be accompanied in the Jeep Safari.
History of Simlipal National Park
Earlier Simlipal National Park was a recreational and hunting place for the Maharajas of Mayurbhanj. Later in 1885 the then Maharaja of Mayurbhanj brought Simlipal forest under the management through a forest policy. 
The park was designated as a tiger reserve in 1956 and in 1973 the park came under the Project Tiger. In 1979 Mugger Crocodile Scheme was started in the park.

It was declared as a National Park in the year of 1980 with a  total area of the park of 303 square kilometres. In 1986 the area of the park was  further increased to 845.70 square kilometres. It was declared as a Biosphere Reserve in  1994. In 2009 the park came under  UNESCO Biosphere Reserves list.

Relocation of two villages was already done in 2003 and 2015 however there are 61 more villages with around 10,000 population still inside the forest. That's why even though the park is considered as one of the 18 biospheres in India still the status of full fledged national park is yet to be announced. .

Flora and Fauna
The park is blessed with different  mixed vegetation with tropical moist broadleaf forest and tropical moist deciduous forests with dry deciduous hill forest and Sal forest. The park is mostly dominated by Sal forest.  The park also has extensive grasslands which are the grazing ground for many herbivores.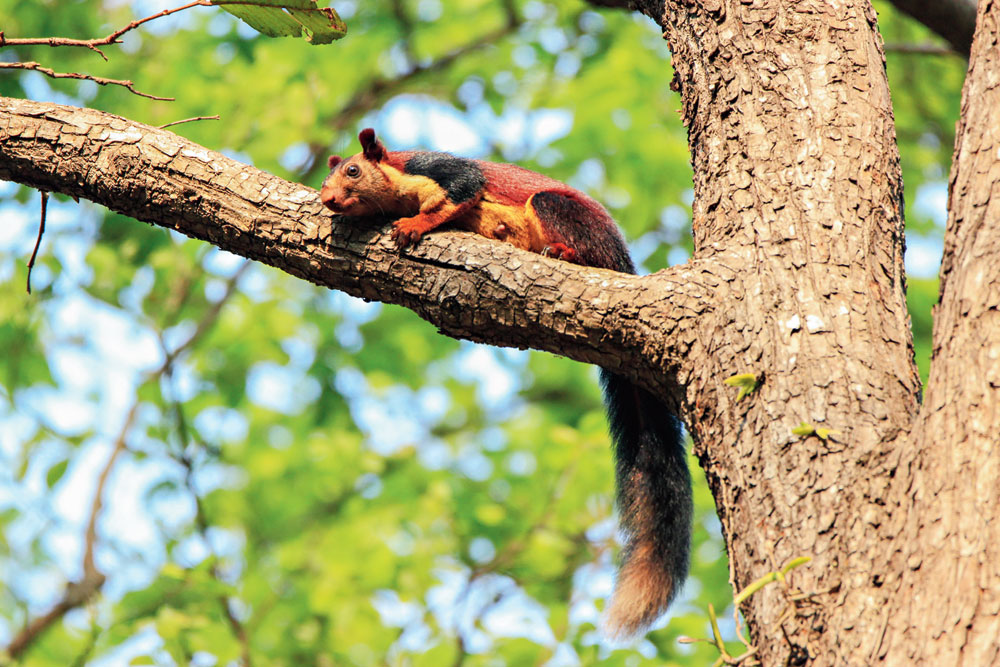 Simlipal National park is blessed with many natural plants and trees. There are around 1076 plant species and 96 species of orchids. There are around 100 different families of plants in the park.

Sal, Khair and Sissoo are the most dominant visible trees in the park. Some of the flowering plants that can be seen here are Semal, Dha, Madaar, Amaltas and many more. The main source of earnings for the tribal people in the park are the growth of medicinal and aromatic plants.
Eucalyptus is another major attraction which was planted by the British here. Some of the other trees that are planted by man here are Teak, Silver Oak, jacaranda and Bottlebrush.
Fauna
The main attraction in the park is the Royal tiger. Other than the park is home for around 240 species of birds, 30 species of reptiles and mammals like tiger, leopard, Asian elephant, barking and sambar deer, langoor, sloth bear, wild boar, giant squirrel. Among the birds one can see birds like grey hornbill, Indian pied hornbill, Malabar Pied hornbill, Indian trogon, Serpent Eagle and many more.
The park is also home for a large number of reptiles like snake, tortoise, Mugger crocodile and many more. 
Best time to visit
Check out about the geography of India
The best time of the year to visit the Simlipal National Park is from November to May.
The Park remains open from 1 October to 15 June only.
Places of Interest
Joranda Falls
The water falls is located in the core area of Simlipal National park in Mayurbhanj district of Odisha. The waterfalls descend from a height of 150 m spreading out slightly at the base. It is one of the important tourist places in the park to spend quality time with nature.
Read more about tourists places in India
Barehipani Falls: Located in the Simlipal National Park it is one of the highest waterfalls in India. The waterfall has a  height of 399 m. It is the second highest waterfall in India. The waterfall is on the river Budhabalanga which flows from Meghasuni mountains of Eastern Ghats. It is a tiered waterfall with two drops.
Affiliate Disclosure:
If you make any purchase via a link on this site, I may receive a small commission with no added cost to you.