Dibru Saikhowa National Park
Dibru Saikhowa National Park
Dibru Saikhowa National Park:
Quick Facts
Country: India
State: Assam
Famous for :  Bengal tiger, leopard, endangered fishes and many more
Best time to visit: November to April
Established in the year: 1999
Area: 350 square kilometres
Dibru Saikhowa National Park is located in Dibrugarh and Tinsukia districts of Assam, India. The park was declared a biosphere reserve in 1997.
Update on coronavirus in India
The park is surrounded by Brahmaputra and lohith rivers in the north while Dibru river in the south.  The park is covered with an area of around 765 square kilometres with core area of 340 square kilometres and buffer zone of 425 square kilometres.
Being located in the flood plains of Brahmaputra the park is the ideal place for some of the most beautiful endangered animals and also rich in fish diversity due to the presence of large rivers all around.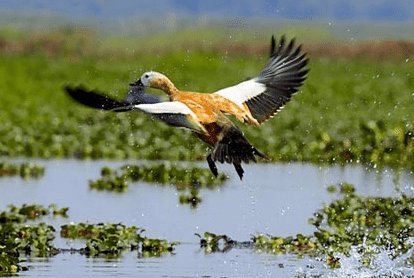 Climate at Dibru Saikhowa National Park
The park experiences three seasons: summer, monsoon and winter.
Summer season: Summer season is from May to August. It is usually very hot and wet during the summer season. 
Monsoon season: Monsoon season is usually from July to September. The place receives very heavy rainfall during monsoon season. The annual rainfall ranges from 2,300 to 3,800 mm.
Winter season: Winter months are from November to February. Winter season is usually dry and cold with December and January being very cold months.
Best time to visit the park
November to April is considered as the best time of the year to visit the park. Rest of the year it is either very hot or raining.
How to reach
By Air : The nearest airport is situated at Mohanbari, Dibrugarh, which is 40 kms. away from the park. From there one can take a cab or a bus to reach the park.
By Train : Distance from Tinsukia railway station to Guijan & Dhola entry point is 10 km & 50 respectively. From there one can take a cab to reach the park.
By Road : Regular buses both private and government are available from Tinsukia. It is well  connected with all the major cities of Assam.
Flora and Fauna
The vegetation in the park is mainly a combination of moist mixed semi evergreen forests, moist mixed deciduous forest, canebrakes and grasslands. It is the largest salix swamp forest in north eastern India.
The park gets flooded during the monsoon season by Dibru and Brahmaputra rivers. The park also has patches of wet evergreen forest. Due to the different climatic conditions and vegetation one can see different varieties of plants and trees grown all around the park.
Some of the important trees grown along with Bamboo and cane are Arundo donax ( tall perennial cane), Imperata cylindrica (species of grass), Bischofia javanica ( bishop wood), Lagerstroemia parviflora (crape myrtle), Terminalia myriocarpa, Dillenia indica (elephant apple), Bombax ceiba (cotton tree) and many more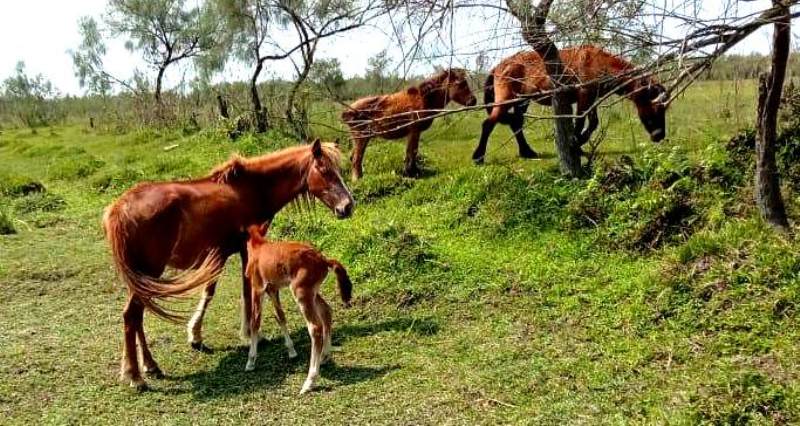 Fauna:
The park is home for varieties of species of birds, around 36 species of mammals and different species of reptiles. Even though the primary aim of the park was to protect the White Winged Wood duck in its natural habitat.
It also home for many other mammals like Bengal tiger, Indian leopard, Clouded leopard, Chinese pangolin, Ganges dolphin, Assamese macaque, pig tailed macaque, barking deer, Sambar deer, Asiatic water buffalo and many more. The park is home for  bright colored wild horses known as feral horses.
The park is a paradise for bird lovers. Some of the rare species of birds can be seen here. One can see puff-throated babbler, Jerdon's bushchat, white-bellied heron, grey heron, chestnut-crowned bush warbler, yellow bittern, Asian openbill, lesser adjutant, rufous-rumped grassbird, swamp francolin, spot-billed pelican, greylag goose, black stork, glossy ibis, white backed vulture, osprey, Himalayan griffon,
Bengal florican, brown fish owl, great pied hornbill, Pallas's fish eagle, grey headed fish eagle, spotted redshank, greenshank, pale capped pigeon and many more. Among the reptiles are monitor lizards,  eight turtle species and eight snake species can be seen here.
Places of Interest
Maguri Motapung Beel:  It is a wetland and a lake located near the park. It is a natural habitat  and home to around 110 different species  of birds which also include migratory birds. One can do boat safari and watch some of the important birds like swamp grass babbler, white winged wood duck, falcated duck, ferruginous duck, baikal teal and many more. 
Churkey Sapori: 
It is a river island which is famous for feral horses. The island is located towards the northern side of the park. They are generally spotted in herds and during monsoon season they move in groups of around 20 horses together.
Kekjori trees:
This tree is located inside the park. It is over hundred years old and has vast branches. One single tree covers a very wide area with its branches spreading everywhere. One has to take a 15 minutes boat ride to visit this tree. Villagers consider the tree as very sacred and cutting down any branches or roots would bring bad omen. It is a must visit place in the park. Prior permission is needed from the forest officer to visit the tree. On the way one can see a small lake called Saal Beel. It is home for many migratory birds.
Affiliate Disclosure:
If you make any purchase via a link on this site, I may receive a small commission with no added cost to you.