Shimla
Shimla:
Quick Facts:
Country: India
State: Himachal Pradesh
District: Shimla
Elevation: 2,276 m
Shimla is a beautiful Hill station located in the state of Himachal Pradesh, India. Himachal Pradesh has many hill stations. Also known as Queen of Hills, Shimla is the capital city of Himachal Pradesh.
The city was also the summer capital during British rule in India from 1864. Surrounded by the beautiful and mighty Himalayas along with forests of Oak and Pine, it is one of the most important and popular Hill Stations.
Update on coronavirus in India
Shimla still retains the old colonial architecture with a beautiful mall road and ridge lined with many shops all around that makes it feel like the British Era. Many buildings that were built during the British period are mostly in colonial architecture.
Traffic is not allowed on Mall road, which helps pedestrians to easily walk around. Shimla has no water bodies and the nearest is the Sutlej river which is around 21 km from the city. Giri and Pabbar are the other two rivers which flow in the Shimla district very far away from the city.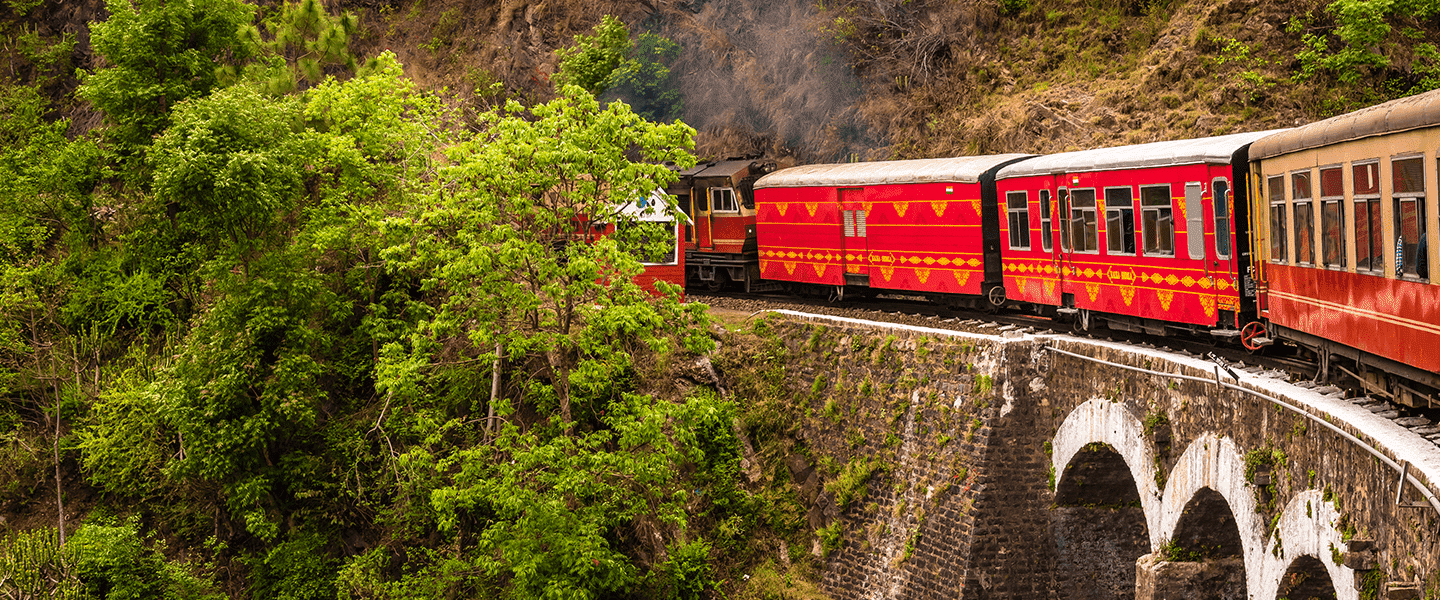 Seasons/Weather in Shimla
Shimla enjoys a cool climate due to the elevation. It has Subtropical Highland climate with pleasant summer and cold winter seasons.
Spring and Summer Season: Summer season is from March to June. The maximum temperature hovers around 29 degree Celsius. Shimla is the most visited state during summer season.
Monsoon Season: July to September is the monsoon period. The city receives heavy rainfall during monsoon season. The temperature hovers around 20 degree Celsius. Monsoon season is considered as off season.
Winter Season: November to February are the winter months. The minimum temperature may go below sub zero levels during peak winter season months of December and January. The city receives heavy snowfall during January and February.
Best time to visit Shimla
Due to good climatic conditions, Shimla can be visited throughout the year. Usually the summer months are the very busy months as people go to hill stations to escape the heat. However if one has to enjoy snow and snow related activities then winter season is the best time to visit.
How to reach
Being the capital city of Himachal Pradesh, Shimla is very well connected through Air, Road and Rail.
By Air: Shimla has an airport at Jubbarhatti which is around 25 km from the city. It has regular flights from Delhi. The airport may not be functional throughout the year due to climatic conditions.
The next nearest airport is the Chandigarh airport which is around 120 km. Otherwise tourists can fly down to Delhi and take a cab from Delhi as well which is around 355 km.
By Road:
The nearest Railway Station is the broad gauge railway station at Kalka. After that one can take Kalka- Shimla which is one of the most thrilling experiences to enjoy. This railway track was given the status of UNESCO World Heritage Site in 2008. This is a narrow gauge railway.
By Road:
Shimla is very well connected by road. One can drive down from most of the major cities in North India. There are also regular government and private bus services from most of the major cities. Some of the distance from the major cities are
Kalka: 90 km
Chandigarh: 115 km
Ambala: 148km
Bathinda: 340 km
Delhi: 345 km
Dehradun: 230 km
History of Shimla
Shimla was the summer capital during British rule in India. Until the 18th century most part of Shimla was thick forest with scattered houses. There are many versions to believe as to how the city got its name.
In the first version it is believed that Shimla got its name from the Hindu God Shymala Devi, an incarnation of Kali. During British rule the image of the Goddess was shifted to a new place which is now known as Kali Bari Temple.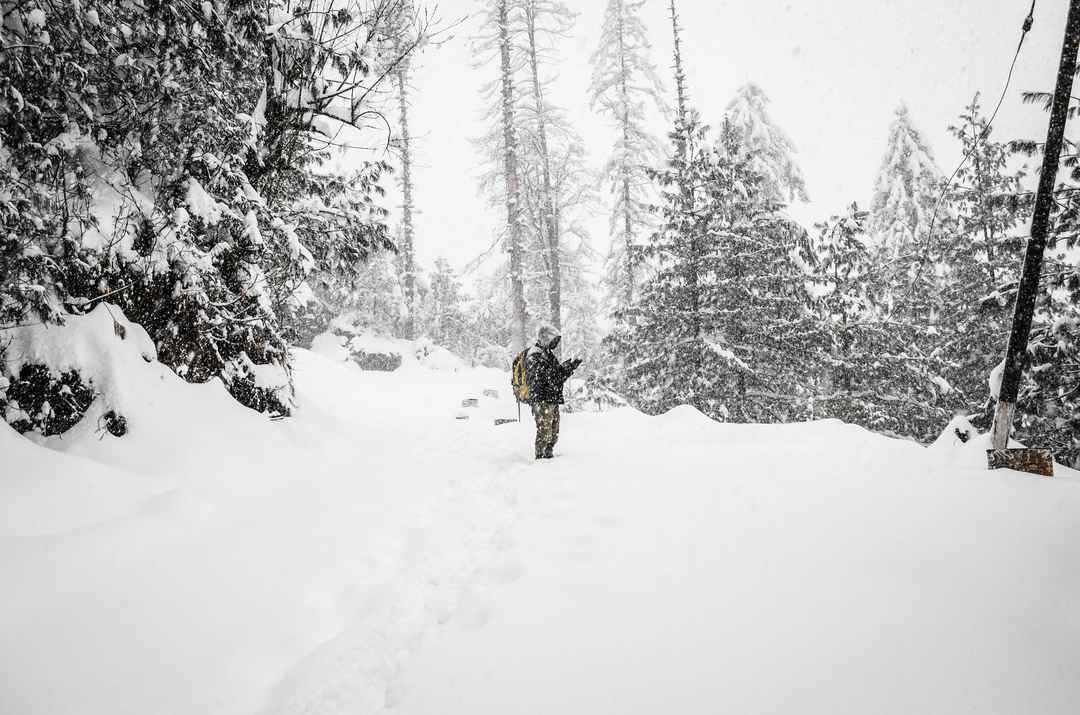 Another version is that the city Shimla got its name from the word Shyamalaya which means blue slate by faqir on Jaku. In 1806 was invaded and captured by Bhimsen Thapa of Nepal.
The Gurkhas recreated a havoc in Shimla and the adjoining areas. The British soldiers defeated the Gurkhas in 1815 and restored the chiefs under British protection.
In 1819, Lt Ross built a wood cottage in Shimla. Lt Ross was the Assistant political agent of the Hill states.
Later his successor who was a Scottish civil servant Charles Pratt Kennedy built a concrete house and named it as Kennedy Cottage. It is now used as a CPWD office. Slowly many British officers used to spend their summer in Shimla due to good climatic conditions.
Shimla became a vacation place for many British during the summer season. By 1830, Shimla started gaining importance and several bungalows and a big Bazar was established.
In 1850-51 the Hindustan -Tibet road was constructed from Kalka to Shimla. In 1863, the Viceroy of Shimla John Lawrence decided to make Shimla as the summer capital.
The British soldiers, servants, officials, merchants moved to Shimla to escape the heat from the Indo Gangetic Plain. In 1903 a railway line was built between Kalka and Shimla.
The construction of the railway line gave a big boost for the further development of the city.
Seven Hills of Shimla
Shimla was built on the seven Hills. The seven Hills are :
Jaku Hill : Located at the altitude of 8048 feet from the sea level it is the highest and the first hill of Shimla. The main attraction here is the Lord Hanuman Jaku temple.
Observatory Hill: It is at an altitude of 7050 feet. The main attraction here is the Indian Institute of Advanced Study.
Inveram Hill: It is at a height of 2445 feet and has Bird Museum, Vidhana Sabha and Glen forest which is located at the bottom of the hill.
Bantony Hill: It has Kali Bari Temple and Bantony Castle. The hill is named after Lord Bantony.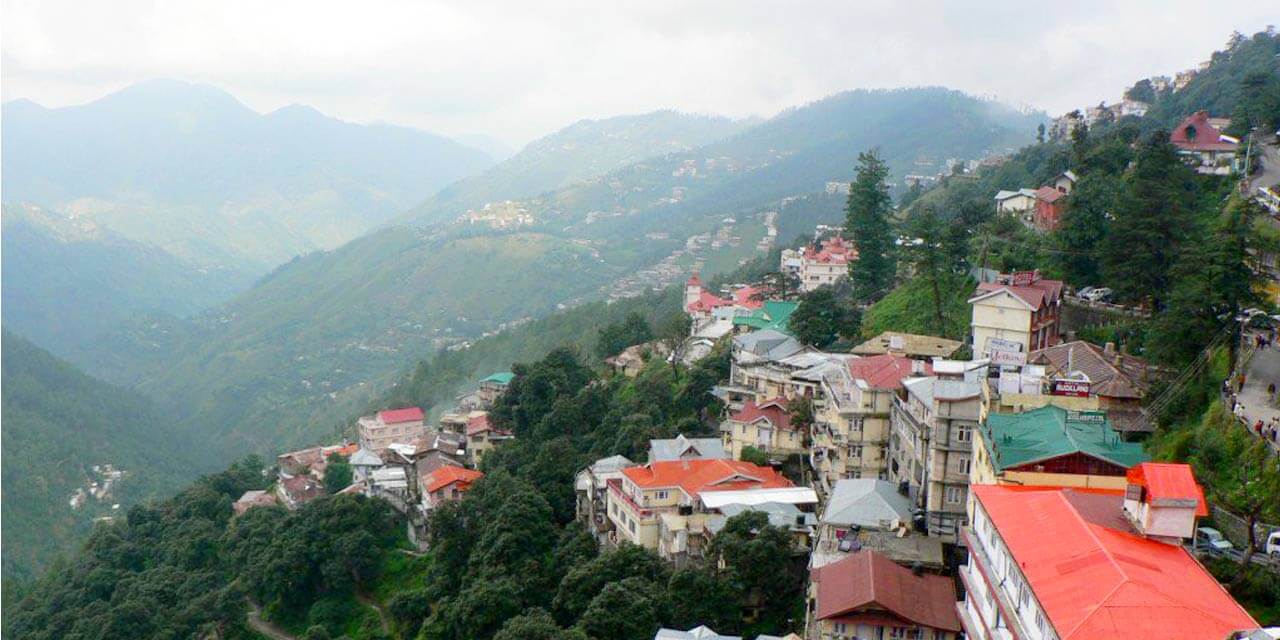 Summer Hill: It is at an altitude of 6500 feet and holds western Shimla. It is one of the stations for Kalka- Shimla toy train.
Prospect Hill: It is located in Western Shimla at an altitude of 2200 m. It has Kamna Devi temple.
Elysium Hill: It is the seventh hill of Shimla at an altitude of 7400 feet. It hold Auckland house and Longwood ( residential locality in north western Shimla)
Places to visit/ Tourism in Shimla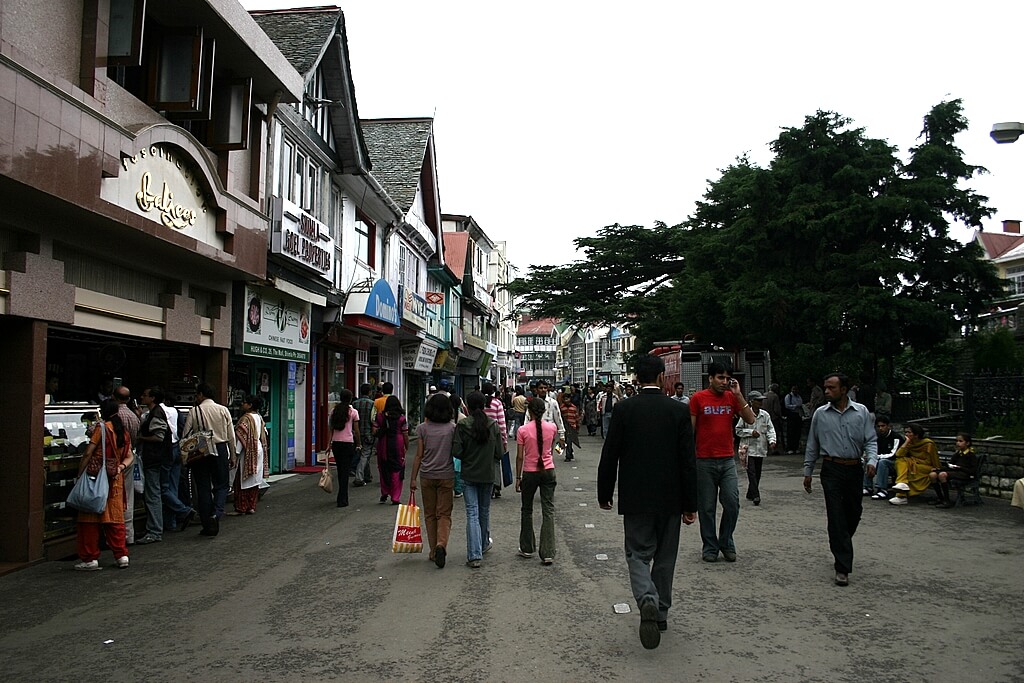 Shimla is a very important tourist place in India. It has many places to see around.
The Mall Road:
It is the major shopping centre in Shimla. It holds restaurants, clubs, markets, banks, post office and showrooms. Most of the stores that are located in Mall road are famous for woolen clothes, handicrafts products like the wooden furniture or some wooden articles. The mall road is open from 9 am to 9 pm. Tourists can get some local made stuff here.
Jaku temple:
It is open from 5 am to 12 noon and 4 pm to 9 pm. It is an ancient temple dedicated to lord Hanuman which is situated on the Jaku Hill. It is just 2 km from the ridge. It is situated on the Jaku hill which is the highest hill in Shimla. The place is covered with beautiful Alpine trees. In order to reach the temple one has to do either walk for around 30 mins or hire a taxi or ride on a pony
The Ridge:
It is a wide open space next to Mall road. It organizes some of the major cultural festivals like the summer festivals in Shimla. The road has shopping malls, restaurants and some other important shops.
There are large water tanks below the ridge which used to supply water during the British period. The ridge holds the reservoir which was constructed in 1880.
Kali Bari:
It is an ancient temple built in 1845 by Bengali Brahmin Ram Charan Brahamchari on Jakoo Hills. The temple is dedicated to the reincarnation of Goddess Kali known as Shymala.
The city Shimla got its name from here. Locals believe that the Goddess Kali lived on Jakoo Hills. The temple was later relocated to Bantony Hill. The temple is built in Hindu style architecture. The temple is open from 6 am to 7 pm on all days.
Annadale:
Annadale is a beautiful flat terrain which holds a helipad, golf course and also an army cantonment. It is just 2 km from Shimla Railway station and is covered with lush green mountains and Deodar trees. The cantonment also has an Army Heritage Museum.
The museum is open to the public from 10 am to 2pm and 3 pm to 5 pm on all days except Monday. Monday is closed to the public. Due to its serene location and lush greenery on all the sides, it is also known as the " Heart of Shimla." After India got independence a number of sports activities like polo, cricket, football, hockey were organised in Annadale.
Shaily Peak in Naldehra:
It is one of the most beautiful places to do some trekking. It is one of the most important tourist places in Shimla. The trek in the lush green all around is truly worth it. If one does not want to trek they can opt for going on a pony or a motarable track.
Tara Devi Temple:
The temple is at a height of 7200 feet above sea level and is around 11 km from Shimla city. The temple is dedicated to Goddess Tara Devi. It is believed that the temple is around 250 years old and is on the top of Tara Parvat ( Hill).
The temple was built by the Sen dynasty around 1766 AD. One can still see the fort of Giri Sen in Junga. The temple is open from 7:30 am to 6:30 pm on all days. It is very difficult to visit the temple during snowfall and also during rainy season.
Indian Institute of Advanced Study:
Indian Institute of Advanced studies was set up in 1964 and started functioning in 1965. It is on the Observatory Hill and is built in Scottish architecture.
It was originally built as a home for Lord Dufferin who was a Viceroy of India from 1884-88. It was called the Viceregal Lodge. A number of historical decisions were made here during the Indian Independence Movement.
Jutogh:
It is a Cantonment board established in 1843. It was first occupied by the regiment of Gurkhas. It is at an elevation of 1729 m .
Narkanda:
It is a beautiful town located at an elevation of 2708 m on the Hindustan- Tibet road. It is about 60 km from Shimla and is surrounded by thick forest and woodlands all around. The place is famous as a skiing resort during winters. One can also visit Hatu peak which is just 8 km from Narkanda. The place is surrounded by Maple, Conifer, Oak, Holly and Corylus species.
Naldehra:
It is a small village about 22 km from Shimla. It is famous for greenery all around with natural scenic beauty, and a view of the mountains covered with pine, cedar and deodar trees.
Himachal State Museum
It is an Indian Cultural museum located on the Shimla Mall Road. It is open from 10 am to 1:30 pm and 2 pm to 5:30 pm on all days. It was opened in 1974 to protect the culture of the state. The museum has a collection of miniature , pahari painting, wood carving and also costumes, jewelry and textile.
Sankat Mochan
Established in 1959, Sankat Mochan temple is dedicated to lord Hanuman. It was established by Neem Karoli Baba. The temple is located at an altitude of 1975 m. A beautiful view of Shimla can be seen from the temple.
Mashobra:
It is a beautiful town in Shimla district. It is at an average elevation of 2,146 m. Mashobra is famous for flora and fauna. One can see pine trees, oak, cedar, deodar along with maple and horse chestnut. Fauna consists of monkeys, jackals, Langurs and barking deer.
Fagu:
Fagu is located at an elevation of 2,450 m above sea level on the Hindustan- Tibet road. It is a small town which is around 45 minutes drive from Shimla and around 15 minutes from kufri. It acts as a base camp for trekkers and to explore nature.
The town is covered with lush green cedar and pine trees with deep valleys which has apple orchards and different species of flower fields. The major attraction in Fagu is Bhantia Devi temple.
Shimla also has many nearby places to visit like Kufri, Kasuli and many more places. The best is the Kalka Shimla Toy train. It invites people to experience the beauty of Himachal Pradesh.
It is a must ride for all age groups. It has 18 stations and starts from Kalka. The stations include Taksal, Gumman, Koti, Sonwara, Dharampur, kumarhatti, Barog, Solan, Salogra, Kandaghat, Kanoh, Kathleegat, Shoghi, Taradevi, Jutoh, Summer Hill and finally Shimla.
The timings of the train is
The Rail Motor Car starts at 5:10 am from Kalka and reaches Shimla at 9:50 am.
The Shivalik Deluxe Express toy train starts at 5:20 am from Kalka and reaches Shimla at 10 am.
The Himalayan Queen toy train leaves Kalka at 12:10 pm and arrives at Shimla at 5:30 pm.
Affiliate Disclosure:
If you make any purchase via a link on this site, I may receive a small commission with no added cost to you.