Mussoorie
Mussoorie
Quick Facts:
Country: India
State: Uttarakhand
District: Dehradun
Elevation: 2005 m
Climate: Subtropical Highland Climate.
Mussoorie is a hill station in Uttarakhand, India. It is about 35 kms from Dehradun and 290 kms from New Delhi. Many people staying in North India rush to hill stations to get away from the scorching heat.
Update on coronavirus in India
Popularly known as the " Queen of the Hills," Mussoorie is at an elevation of 2005 m above sea level. To the northeast of Mussoorie is the beautiful Himalayan ranges and towards south is the Doon Valley and Shiwalik ranges. Mussoorie also serves as a gateway to Hindu pilgrimage places like Gangotri and Yamunotri.
Another major highlight is that Mussoorie has a ropeway to Gun Hill, which is the second highest point of Mussoorie after Lal Tibba. The cable car can be from the mall road which gives a beautiful view of the Himalayas and the entire city.
Climate/ Seasons of Mussoorie
Climate/ Seasons:
Being a station, Mussoorie enjoys subtropical highland climate. It can be visited throughout the year as the weather remains pleasant and cold. To experience snowfall one has to visit the place between December to February when the place receives a fair amount of snowfall.
Summer season: March to June are the summer months. It would be warm and wet during summer with maximum temperature hovering around 35 degree Celsius. By mid June the place starts to receive rainfall.
Monsoon season: July to September are monsoon months with July and August receiving very heavy rainfall. There are chances of landslides due to heavy rainfall.
Winter Season: October to February are the winter season. The minimum temperature may hover around 2 degree Celsius. The place receives snowfall from December to February.
Best time to visit:
The best time to visit Mussoorie is from March to June if you wish to take a break from the scorching summer in the plains. Otherwise October to February if you want to experience snow and chill winds.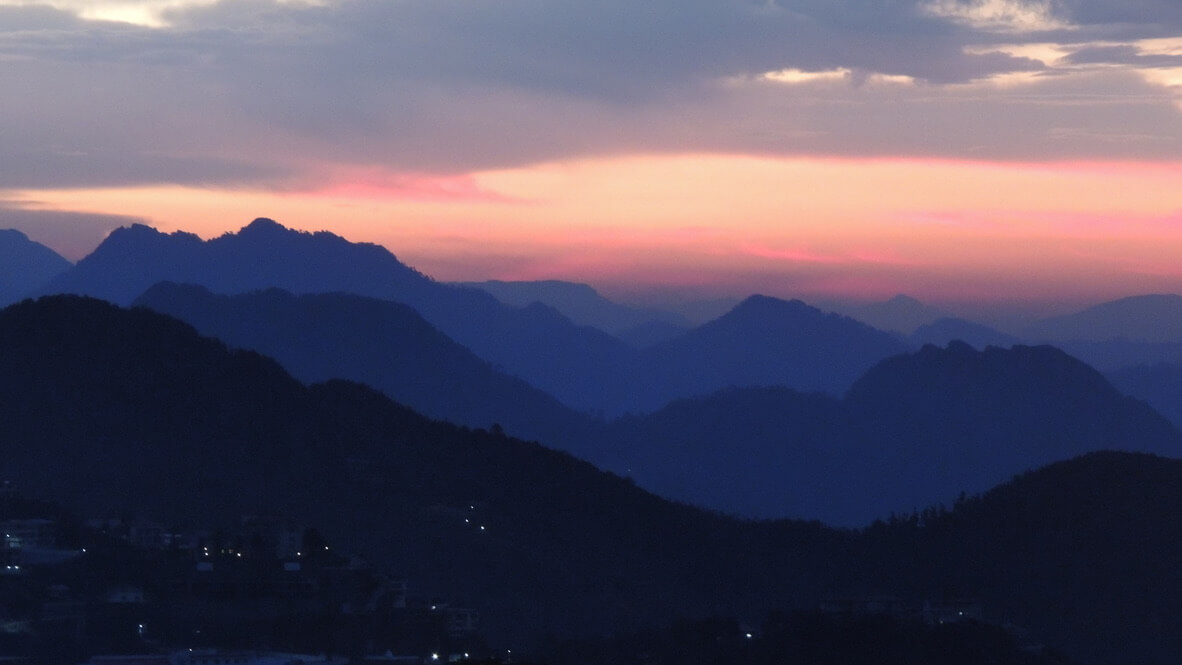 How to reach Mussoorie
Mussoorie is easily accessible by rail, road and air.
By Air:
The nearest airport is the Jolly Grant airport which is around 60 km from Mussoorie. From here one can take a taxi or a cab and drive down to Mussoorie.
By Rail: The nearest railway station is the Dehradun Railway station which is around 65 km from Mussoorie. From there one can take a cab or a taxi to reach Mussoorie.
By Road:
Mussoorie is well connected by road to major cities in North India like Delhi and other cities. One can even drive down from Delhi. There are also plenty of government and private run buses from Delhi and other parts.
Within Mussoorie rickshaw, taxis and buses are the best option.
Tourism and Places of Interest in Mussoorie
Mussoorie is often referred to as Mansuri, a name derived from Mansur shrub which is the native to the area. Mussoorie has many beautiful places to visit.
In 1803 the Gorkhas under the leadership of Umer Singh conquered Garhwal and Dehra and thus Mussoorie was established. Mussoorie grew into an important hill station during the British period. Some of the important places are
Kempty Falls
This beautiful waterfall is located on the Dehradun- Mussoorie road in the Tehri Garhwal District. It is around 13 km from Mussoorie. Nestled at an altitude of 4500feet, the falls is surrounded by high mountain ranges.
The Kempty waterfall divides into five cascades and falls from a height of 40 ft . It was developed as a picnic spot by British officer John Mekinan around 1835.
It is believed that the Britishers while moving from Mussoorie to Chakrata used to spend some time near the falls and would have tea here. The waterfalls can be accessed through a track or through a rope way from Mussoorie Yamuna Bridge road.
Bhatta Falls:
Bhatta Falls is around 7 kms from Mussoorie on Mussoorie Dehradun road near the village Bhatta. The falls can be reached by ropeway from Bhatta. The water falls from a height of 30 ft into a circular pool. To reach the fall one has to use either bus or a car. A further 3 km from Bhatta village can be done either through a ropeway which was opened in 2019 or by foot.
Jharipani Falls:
Jharipani Falls is on the Mussoorie -Jharipani road around 7 km from Mussoorie. It is located near Jharipani village. One has to do trekking of around 1.5 km to reach the fall. It is a small waterfall wherein the fall is full of water only during monsoon season and during other seasons it is just a small strip of water flowing down.
Mossy Falls
Mossy falls is around 7 km from Mussoorie. It is located in the dense forest surrounded by moss laden rocks. This magnificent waterfall is away from the noise of the city. It is a good place to visit for a quiet environment.
Gun Hill:
It is one of the most prominent and important tourist attractions in Mussoorie. It is the second highest point in Mussoorie and can be accessed by Cable car which starts from Mall road. It is at an altitude of 2,024 m. The cable car ride offers an excellent view of Mussoorie and the Himalayas.
It is believed that the British brought a cannon to the hill and used to shoot everyday at noon to help locals to adjust watches and to know the time.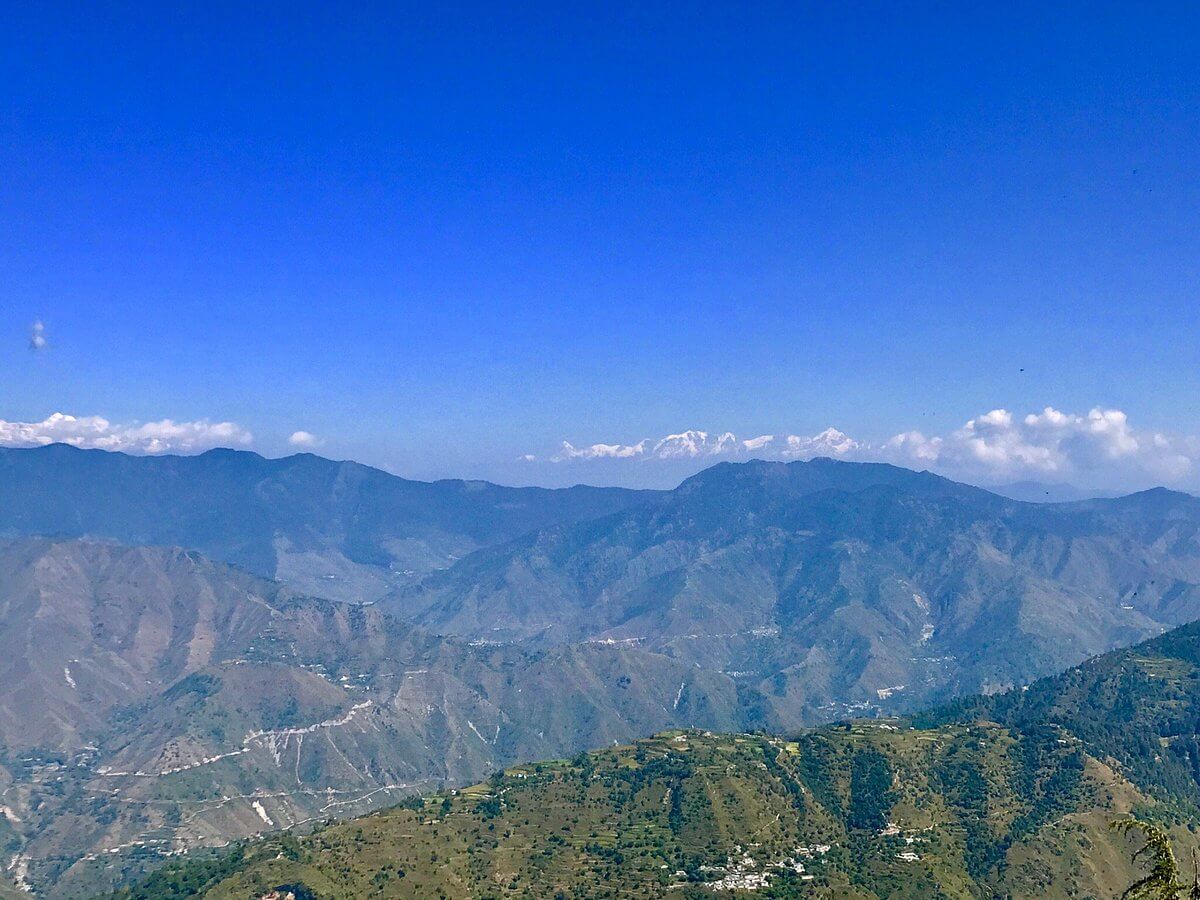 Lal Tibba:
It is a popular place located in Landour which is around 6 km from Mussoorie. It is the highest peak at an altitude of 2,275 m in Mussoorie. Tourists can see the snow laden Himalayan mountains from here.
An elevated structure is placed at the edge of the peak to have a better view of the Himalayas. The place is known for its scenic beauty especially the sunrise and sunset when the mountains turn orange due to sun rays.
Mall Road:
Located at the heart of Mussoorie, Mall road is the famous shopping area which has shops, restaurants, cafes etc. One can see a lot of local shoppers here. It starts from the picture palace in the east to the library point to the west. It is a good place to do some local shopping. The cable car for the gun hill starts from here.
Dalai Hills and Happy Valley:
Dalai Hills and Happy Valley are the two most important places in Mussoorie. It is about 400 m walk from the Tibetan temple which is in Happy Valley to reach Dalai Hills.
If one is interested in doing some trek then they can go from Dalai Hills to Dhobi Ghat, Benog Hill, Clouds End and George Everest. All the listed places are located close to Dalai Hills at a distance within 10 km range. The place is beautifully decorated with Buddhists prayer flag and a statue of Buddha.
Benog Wildlife sanctuary:
It is located at a distance of 11 km from Library Bus Stand and is part of Rajaji National Park. There are different species of birds here. It is open on all days from 7 am to 5 pm. One can enjoy seeing the pine trees surrounded by Himalayas all around.
It is an ideal place for bird watching and also to see the peaks of Chaukhambha and Bandarpunch. Benog is home for Fir and Pine trees along with some medicinal plants.
The sanctuary spreads over 340 hectares of area with a beautiful view of Himalayas and greenery all around. Some of the birds that are seen here are white capped water redstart, Red Billed blue magpie, Himalayan goat, deer, leopard and many more.
Mussoorie Lake:
It is a manmade lake developed recently by the city board and the Mussoorie Dehradun Development authority. It is about 6 km from Mussoorie on the Dehradun Mussoorie road. Pedal boats are available near the lake.
One can hire a pedal boat and enjoy the scenery all around the lake. The lake is open throughout the year and within minimal fees one can enjoy paddling a boat in the lake.
Happy Valley:
Known as mini Tibet, Happy Valley is located within the city of Mussoorie. Happy Valley is towards the west of Dalai Hills from where the mountain ranges of Jaunpur and Nag Tibba are visible.
From Happy Valley one can get a beautiful view of Mussoorie with George's Everest house on one side and the mighty Himalayan ranges on the other side.
Bhadraj Temple
It is located at Bhadraj, the western region of Mussoorie. The temple is dedicated to Lord Balram. It is at the hilltop and an ideal place for trekking. The temple gives a magnificent view of Doon Valley, Chakrata ranges and the Jaunsar Bawar area of Himalayas.
Every year in the month of August the temple organizes a fair which attracts thousands of devotees from different parts of the world. The devotees offer milk and butter to the idol. The temple can be reached by a trek from Clouds End. The trail passes through Dudhli village from where one has to do around 8 km trek to reach the temple.
Dhanulati:
Dhanulati is a small hill station situated at the foothills of Garhwal Himalayan range. It is around 60 km from Mussoorie. It is at an elevation of 2,286 m and is around 10 hours drive from Delhi.
Some of the interesting places in Dhanaulti include two eco parks which are developed by the Forest Department of Uttarakhand. Weather remains pleasant in summer and very cold in winter.
Sir George Everest House:
Sir George Everest was the Surveyor General of India from 1830 -1843. The house which is named after him is at the Park Estate. Although the house is not in a very good condition, it still has walls and a laboratory. The world hughes mountain Mt. Everest is also named after him. One can have a panoramic view of the Doon Valley on one side and on the other side one can see Algar River Valley and a spectacular view of Himalayan range.
Camels Back Road:
It is located at the heart of Mussoorie. It is a 3 km stretch of road which has natural rocks shaped in the shape of a camel's hump. It is a popular place for sunrise and sunset and also to view the Himalayan ranges. It is a spectacular place to go for a morning walk on this road.
Mussoorie is one of the most beautiful hill stations in Uttarakhand. It is a must visit place either to enjoy the snow during winters or to go during summer season.
Affiliate Disclosure:
If you make any purchase via a link on this site, I may receive a small commission with no added cost to you.