Kullu
Kullu:
Quick Facts:
Country: India
State: Himachal Pradesh
District: Kullu
Elevation: 1,279 m
Kullu is a popular hill station in Himachal Pradesh, India. It is at an elevation of 1,279 m and is on the banks of River Beas in Kullu Valley. It is a broad open valley formed by the Beas River between Manali and Larji. Kullu is between Pir Pranjal, Lower Himalayan and Great Himalayan. The hills in the valley are covered with beautiful pine and deodar forest and apple orchards.
Update on coronavirus in India
To the north of Kullu is another beautiful place called Manali. Kullu is famous for many adventurous activities like Skiing, Paragliding, River rafting and Trekking. Some of the important trek routes include Hampta Pass trek, Bhrigu Lake trek, Deo Tibba Base Camp trek and Chanderkhani Trek.
Climate/ Seasons at Kullu
Kullu enjoys a pleasant climate in summer and very cold in winter.
Summer season: Summer months are from March to June. The maximum temperature hovers around 20 degrees Celsius.
Monsoon season: Monsoon months are from July to August. It is better to avoid monsoon months owing to landslides.
Winter season: October to February are winter months. December and January are the peak winter months where the minimum temperature reaches subzero degrees. The place receives heavy snowfall in the higher region and mild snowfall in lower regions during these months.
Best time to visit Kullu
The best time to visit the place is the summer months from March to June. However, if one has to enjoy the snowfall and chill weather conditions then winter months are good.
How to reach Kullu
Kullu is easily accessible by air, road and rail.
By Air:
The nearest airport to reach Kullu is the Bhuntar airport. It is on NH-21. The airport is also known as Kullu- Manali airport. It is around 10 km from the city Kullu town. Bhuntar airport is well connected to Chandigarh and New Delhi.
By Rail: Kullu has no railway station and the nearest is the Joginder Nagar Railway station which is around 120 km from Kullu.
By Road: Kullu has well connected road services. It has direct buses both private and government buses from Delhi, Chandigarh and other major cities in North India.
Places of Interest/ Tourism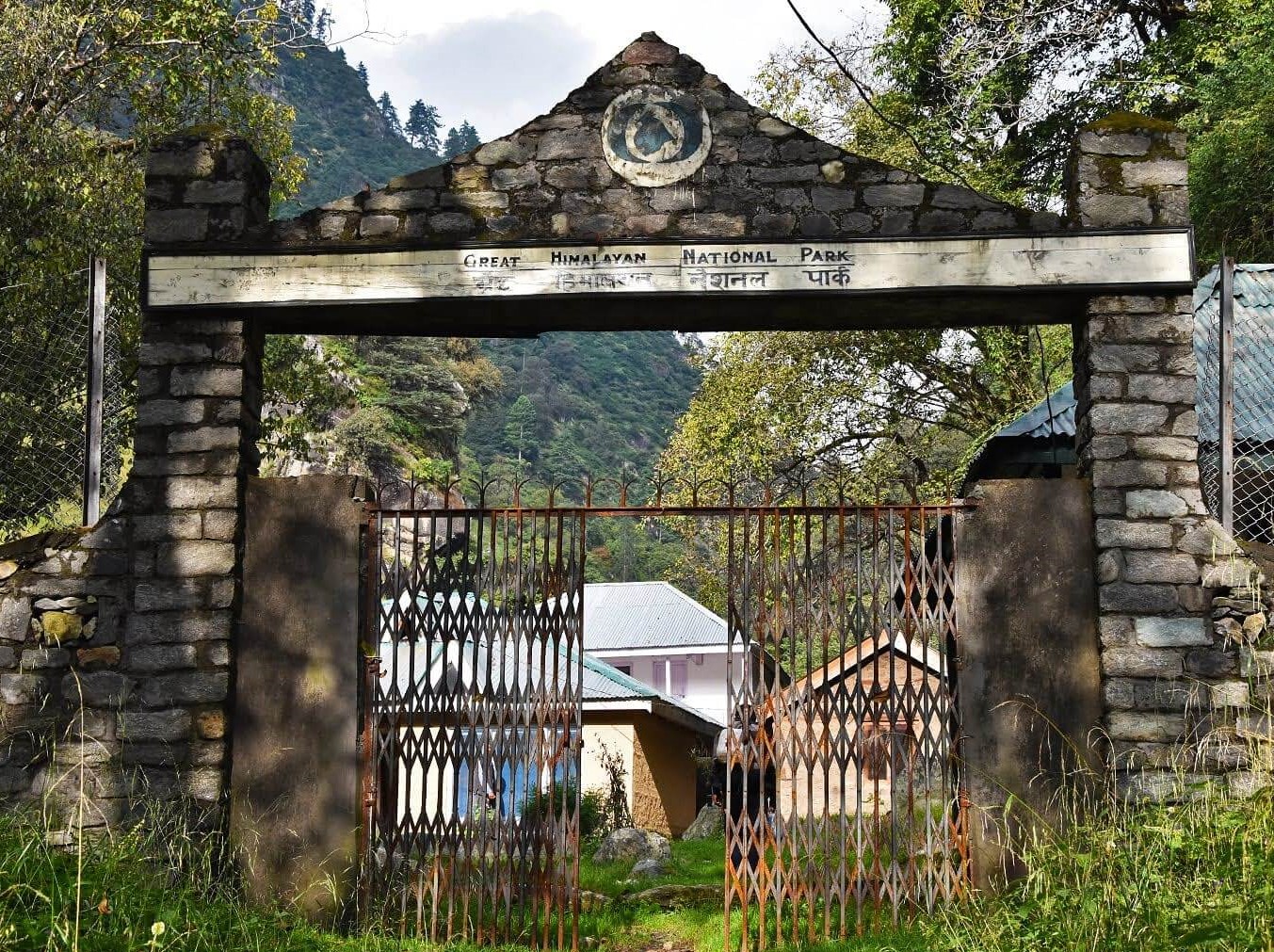 Great Himalayan National Park:
The great Himalayan National Park was established in 1984. It spreads over an area of 1171 square kilometers. In 2014 the park was added to the list of UNESCO World Heritage Sites.
With the altitude ranging from 1500 to 6000 m the park is home for around 375 fauna species which includes 31 mammals, 181 birds, 3 reptiles, 9 amphibians, 17 mollusks and around 127 insects.
One can see some of the rare animal species here. The park is also home for pines, spruces, horse chestnuts, junipers and different kinds of vegetation
Raghunath Temple:
Raghunath temple is one of the prime attractions in Kullu. It is located at a height of 2056 m and is dedicated to Lord Ram. It was built by Raja Jagat Singh in the 17th century. It is believed that Raja built this temple to seek an apology for all the sins he had committed during his lifetime. The idol of Lord Ram was brought from Ayodhya to Kullu.
Shringi Rishi temple Banjar:
It is located in Banjar valley which is around 60 km from Kullu. Shringi Rishi is one of the 18 deities of Kullu valley and is the main deity in Banjar valley.
Khirganga National Park:
It was established recently in 2010. The park spreads over an area of 710 square kilometers. And is at an altitude of 5500 m. The tourist can trespass the trail from the centre of the park from where it is more convenient to see some of the exotic flora and fauna. The park is blessed with thick green shrubs, tall, towering trees and beautiful landscape.
Bhuntar:
Bhuntar is an important town in Kullu district. It has an airport which serves as a gateway to Kullu, Manali and Kasol. It is one of the calm places to visit to enjoy nature with no noise.
Maha Devi Thirth Temple:
Maha devi thirth temple is just 2 km from Kullu valley on Kullu Manali road. It is popularly known as Vaishno Devi temple in Kullu. It is believed that the foundation of the temple was laid by Swami Sewak Das Ji in 1962.
He was inspired by the inner voice and an intuition to build the temple. On reaching Kullu, he found a cave hidden by huge blocks of rocks and water. He worked hard to clean up the cave and make it easier for devotees to reach the temple.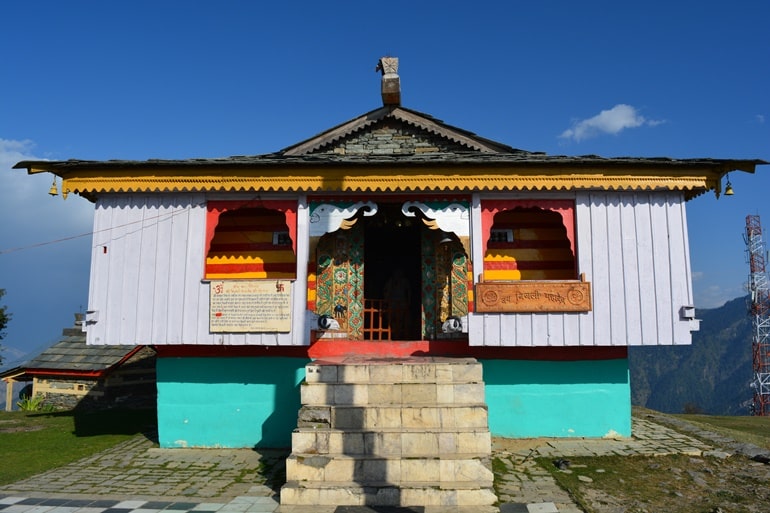 Bijli Mahadev Temple:
It is an ancient temple dedicated to Lord Shiva. It is located at an altitude of 2,460 m in the beautiful Kullu Valley across the Beas River. It is believed that the Shiva Linga is struck by lightning once in every 12 years. The lightning breaks the lingam into pieces. These pieces are again wrapped together with butter by the priest of the temple.
The surroundings of the temple are breathtaking and refreshing. To reach the temple one has to do a trek of around 3 km.
Chandrakhani Pass:
It is located at an altitude of 3,660 m in the Kullu Valley. Tourists can enjoy the magnificent view of the Deo Tibba Parbhat and Pir Panjal peaks. It is one of the most beautiful scenic passes in the country.
It connects Parvati Valley and Kullu. The Chandrakhani Pass trek is a beginner's level trek and not much training is required. The trek is around 22 km and can easily be completed in 6 days. The trek trail starts from Rumsu Base and takes us through the small villages along with forests like Deodar, Oak, Wild Cherries and Blue pines.
Shoja:
It is a small village located at an altitude of 2692 m. It acts as a magnificent viewpoint for a panoramic view of the Kullu Valley along snowcapped mountains and beautiful valley. Jalori Pass is just 5 km from Shoja. Some of the main attractions near and in Shoja are Jalori Pass, Raghupur Fort, Tirthan Paint, Serolsar Lake and many water points.
Manikaran:
It is a small village located at an altitude of 1760 m. It is located in the Kullu district in the Parvati Valley on River Parvati. It is famous for its hot springs and pilgrim center for Hindus and Sikhs. The village is around 45 km from Kullu. There are many temples of Lord Rama, Krishna and Vishnu. There is also a Gurdwara. It is believed that Manu created the human life in Manikaran after the flood.
Trekking:
Kullu is a popular destination for doing some adventure sports activities. Trekking on the Beas Kund is one of the popular trek routes in Kullu Valley. Trekking to Beas Kund is comparatively easy and can be done by all age groups. Some of the trek routes are Hampta Pass Trek, Beas Kund, Bhrigu Lake Trek, Dehnasar Lake Trek.
River Rafting:
River Rafting on the River Beas makes adrenaline charged up. The rafting starts from Pirdi and then covers places like Bajapura, Sarabai, Bhuntar, Shamshi, Mohal, Raisol and Katrain
Rafting in Kullu Manali takes around 1.5 hrs. and is open throughout the year. It is required to wear the rafting gears like life jacket, helmet and raft which is easily available for rent. There are different types of rapids for rafting. It is very important to have trained guides while doing different rapids.
Kasol:
Kasol is a small village in the Kullu district. It is located in the Parvati Valley on the banks of River Parvati. Kasol is famous for different trekking trails like Kheerganga, Yanker Pass and Pin Parbati pass.
Since Kasol is inhabited with many people from Israel, it is also called Mini Israel of India. Kasol experiences pleasant climate throughout the year and receives snowfall from late December to February.
Kullu is truly one of the most beautiful hill stations along with Manali and other hill stations in Himachal Pradesh.
Affiliate Disclosure:
If you make any purchase via a link on this site, I may receive a small commission with no added cost to you.