Manali
Manali
Quick Facts:
Country: India
State: Himachal Pradesh
District: Kullu
Elevation: 2,050 m
Manali is a beautiful town in Himachal Pradesh, India. It is the most popular hill station in the state. Manali is located at an altitude of 2,050 m in the northern end of Kullu Valley. A part of Beas river, Manali is a place to see lush green forests, orchards, rivers, mountain ranges and most important is to enjoy the beautiful weather.
Update on coronavirus in India
Manali used to be the route for ancient trade through Ladakh and serves as a gateway to Lahaul and Spiti Districts of Himachal Pradesh also for Leh and Ladakh.
Manali is famous for trekking and has various trek routes. The gushing water from the River Beas from the slopes of Rohtang Pass allows various adventure activities like river rafting, rowing and river crossing.
Climate/Seasons in Manali
Manali enjoys subtropical highland climate with pleasant summers and cold winters.
Summer season: March to June are the summer months. The maximum temperature hovers around 25 degree Celsius. One can enjoy good outdoor activities like river rafting, trekking, camping and many more.
Monsoon season: July to September are the monsoon months. Heavy rains with landslides can cause a lot of issues to the tourists and even to the locals. It is not a good season or period to visit Manali.
Winter Season: October to February are the winter months. The minimum temperature drops to sub zero levels. Manali starts receiving snowfall from December and extends upto March. If one wants to experience the snow and sub zero temperature levels then it is the ideal time to visit Manali.
How to reach Manali
Manali has good road connectivity and is well connected to major cities across North India.
By Air: The nearest airport is Bhuntar Airport which is on NH 3. It is around 50 km from Manali. One has to drive down or take a bus from the airport. Air India has regular flights from Delhi. The airport is also known as Kullu Manali airport.
By Rail: The nearest narrow gauge railway station is at Joginder Nagar which is around 175 kms from Manali. One has to take a cab and drive down from the railway station. The broad gauge rail heads are at
Una ( 250 km), Chandigarh (310 km), Kalka ( 275 km) and Pathankot (325 km)
By Road: Manali is well connected through road. There are various private and government run buses from major cities in North India. One can even drive down from Delhi, Shimla or Chandigarh. It is a beautiful experience to drive down to Manali.
Tourism/ Places of Interest in Manali
Being a hill station, Manali is a very important tourist destination. People from different parts of the world arrive here to enjoy nature and good climatic conditions. Here are some of the important tourist places in and around Manali.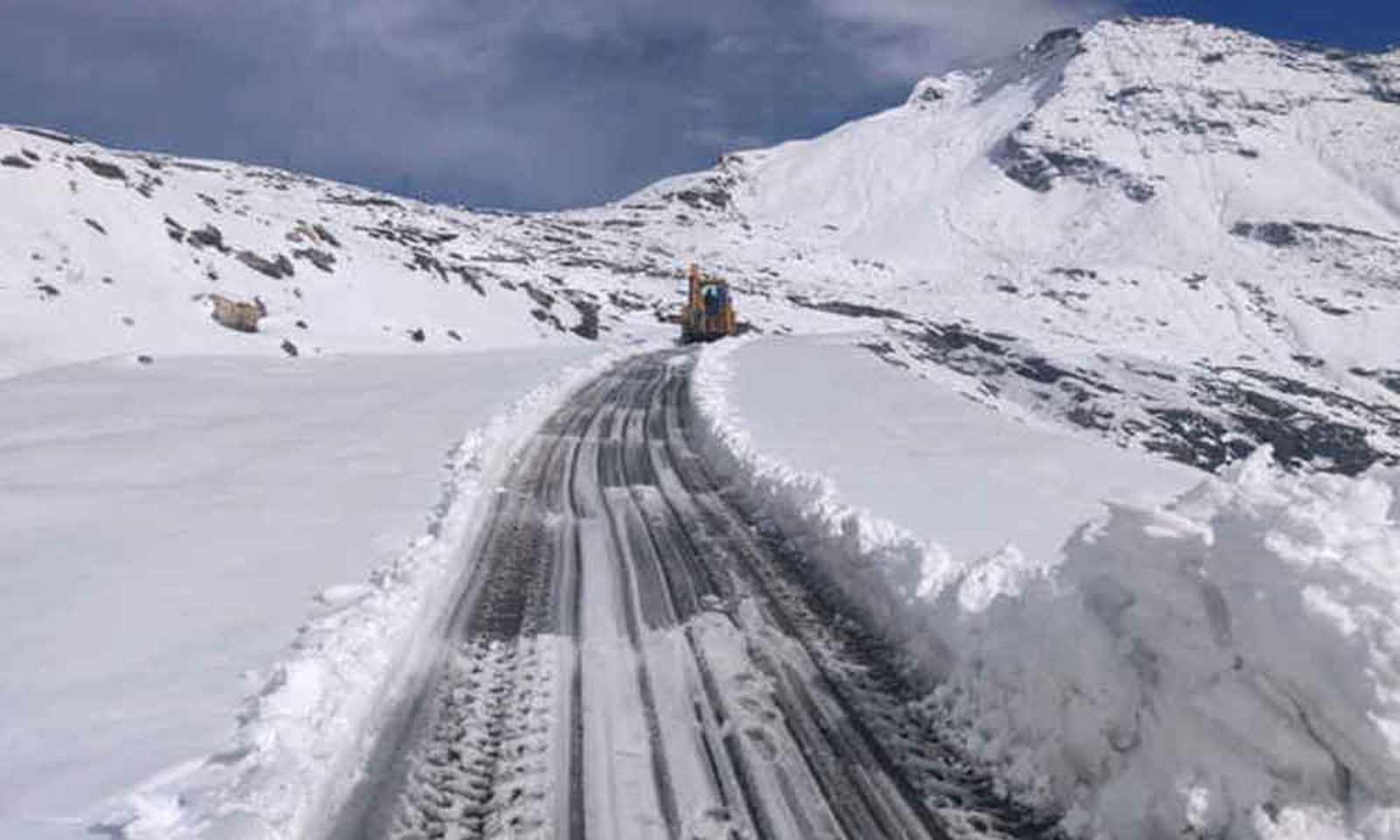 Rohtang Pass:
Rohtang Pass is a high mountain pass at an elevation of 3,980 m. It is at the eastern side of Pir Panjal Range of the Himalayas. It is around 50 km from Manali and connects Kullu Valley with Lahaul and Spiti Valleys.
Due to heavy snow fall during winters the pass remains closed for tourism from November to May. The natural beauty and the snow capped mountains makes it a must visit place near Manali.
The pass is open to the public from May to October and the mountain slopes are famous for some of the adventurous sports activities like skiing, paragliding, ice skating and trekking.
A trip to Rohtang is incomplete without doing Sledge riding on the snow. It is done on a wooden sledge with a man pulling it on the snow. One has to take a permit from the designated authority at Manali to visit Rohtang pass.
Due to its high elevation and polar climate, the place can sometimes experience snowfall even during summer season. As the pass gets blocked by snow during winter season and also even the roads the northern districts like Spiti and Lahaul become inaccessible.
Thus the government planned to build a tunnel under the pass. Atal Tunnel is built under the Rohtang Pass in the eastern Pir Panjal range of Himalayas. It is the longest single tube tunnel above 3,048 m in the world.
Hadimba Temple:
The temple is open from 8 am to 6 pm on all days. The temple was constructed in the 16th century and is dedicated to Goddess Hadimba. It is an ancient cave temple surrounded by cedar forest known as Dhungiri Van Vihar at the foot of the Himalayas.
According to Hindu Mythology the giantess Hamdiba meditated in this region to shed her demoness identity. After many years of penance her prayers were answered and she was given the status of Goddess.
Maa Sharvari Temple:
The temple is open from 5 am to 12 noon and 4 pm to 9 pm everyday. It is just 5 km from Manali and has the idol of Goddess Durga in the temple. The temple is on the top of the Shaminallah village across Beas River on the way to Naggar Castle.
Naggar:
Naggar is a small village located on the banks of Beas river. It is at an altitude of 1,800 m. It is very close to Manali. The village used to be the capital of Kullu Rajas for 1400 years. It was founded by Vishudh Pal.
The place has a historical significance for Naggar Castle which was built by Raja Sidh Singh of Kullu in 1460 AD. Now it is converted into a hotel and is managed by the Himachal Pradesh Tourism Development Corporation.
Solang Valley:
Solang Valley is famous for hosting various winter sports activities like skiing, parachuting, skating and zorbing . It is located just 14 km from Manali on the way to Rohtang Pass at an altitude of 2,560 m.
This magnificent valley is known for snow capped mountains and glaciers all around. Skiing is an important sport activity here during winter season and when the snow melts in summer season the place is used for zorbing, horse riding and paragliding.
Old Manali:
Old Manali is around 3 km away from Manali. This place is a quiet and beautiful part of the city which is most visited by foreign people. The calm and serene surrounding with snow capped mountains and gurgling sound of river Beas makes it one of the important places to visit in Manali.
The place is surrounded by orchards and guest houses. There is also a temple dedicated to Sage Manu. It also has a ruined fort called Manaligarh. Old Manali is famous for Hadimba temple.
Jogini Falls:
This beautiful waterfall is near Vashistha temple. After a 2 km trek through pine trees, orchards and small water streams one can see this beautiful waterfall which falls from a height of 160 feet. If one has to reach at the top of the fall then it is better to take a guide.
Vashista village:
Vashista is a small village located around 3 km from Manali. The place is famous for hot water springs and three temples dedicated to Lord Vasisht, Lord Shiva and Lord Rama. All the temples are next to these hot springs. One can take a bath in the hot springs. Separate tanks are provided for men and women to take baths. It is believed that these hot springs have special healing powers for any skin diseases, infections or any pains.
Kalath Hot Water Springs:
Located around 6.5 km from Manali, it is a natural sulphurous water that comes from the underground. There are separate tanks for both men and women to take baths. It can easily be spotted just before the Green Tax Barrier.
Gadhan Thekchhokling Gompa Monastery:
It was built in 1960 by the Tibeatean refugees. Buddhists from Ladakh, Spiti, Tibet, Kinnaur and Lahaul come here to seek the blessings of Buddha.
People from different religions also visit this place to get spiritual energy from the place. The monastery is a small shrine of Lord Buddha. One can also see the murals on the structure which tells about Lord Buddha's value for human life and also his preaching's.
The monastery is open from 6 am to 8:30 pm on all days. It is easily accessible as it is located in the Mall road near the Manali Bus stand.
Manu Maharaj Temple:
This rare and beautiful temple is dedicated to sage Manu who wrote Manusmriti. The small wooden temple is located in old Manali. The place is very congested but the gurgling sound of River Beas adds to its attraction. It is the only temple dedicated to Manu. Travelers are advised to wear dresses below knee level and also to cover their shoulders.
Himalayan Nyinmapa Buddhist Temple:
It is a Buddhist monastery located in Manali. The monastery is open from 6 am to 7 pm on all days. Tourists not only visit for religious significance but also for the architectural beauty of the monastery. The temple has a two storey statue of Sakyamuni ( Lord Buddha) in meditative posture. It is located very close to Mall road in Manali. It is one of the best places to sit and do some meditation.
Manali Nature Park:
It is a beautiful park to enjoy the natural beauty of Manali. The best period to visit the park is from May to October. The park is surrounded by large groves of Deodar Trees. Tourists can sometimes also spot the Himachal state bird called Manual Pheasant. The park has cedar and deodar trees and is bounded by snow capped mountains.
The park also has horse chestnut, Walnut and Maple trees. Sun rays entering the park through these giant trees make it one of the best places in Manali.
Rahala Waterfalls
It is located at an height of 2,501 m and around 16 m from Manali. It is on the way to Rohtang Pass at the start of the climb. The falls is formed due to the melting of glaciers and thus the water would be extremely cold. The waterfall is in the dense forest of trees consisting of deodar, silver birch and many more trees.
Nehru Kund:
It is one of the natural springs of natural water located just 6 km from Manali. It is on the Leh Manali highway. It gets its name from the late Prime of India Pandit Jawahar Lal Nehru. It is believed that Nehru used to drink water from this kund whenever he visited Manali. This crystal clear water is believed to come from Bhrigu lake.
Other than these places one can visit Kullu, Shimla, Bhrigu lake, Kasol and many more. Manali is a wonderful place to see beautiful snow capped mountains and to have good food.
Affiliate Disclosure:
If you make any purchase via a link on this site, I may receive a small commission with no added cost to you.