Dalhousie Tourism
Dalhousie Tourism
Quick Facts: 
Country: India
State: Himachal Pradesh
District: Chamba
Elevation: 1,970 m
Dalhousie is a scenic hill station located in Chamba district of Himachal Pradesh, India. It is nestled in the foothills of the majestic Himalayas and is also home to many colonial-era buildings. One should not forget the breathtaking views of several snow-covered mountains.  It is at an elevation of 1,970 m. The place is famous for dense jungles, waterfalls, meadows and greenery of fir and pine trees all around. It is situated on five hills namely Kathlog, Potreyn, Bakrota and Bhangora.
Important links within the page
Update on coronavirus in India
Dalhousie is named after Lord Dalhousie who was the British Governor General in India from 1848 to 1856. This place was frequently visited by the British rulers during the summer season. Thus, most of the bungalows in Dalhousie are in English style.  It was founded by British officials in 1854 as a summer retreat during the British era. Today, visitors are offered an array of activities from boat rides on rivers to trekking through dense forests and experiencing local culture while visiting some of its popular attractions like Khajjiar Lake and Kalatop Wildlife sanctuary.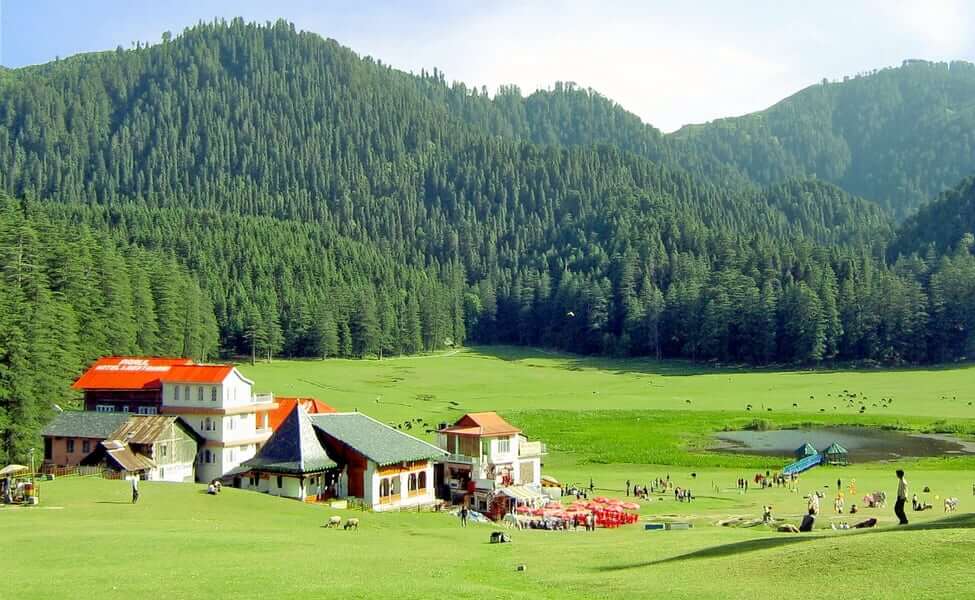 Dalhousie is famous for Mall road,waterfalls and meadows. Panjpula waterfall and Satdhara waterfall are the two most famous waterfalls in Dalhousie. It is formed by different mountain streams.
The stunning Mall Road is famous for Tibetan handicrafts works, shawls and Chamba Handkerchiefs. Another important place near Dalhousie is Khajjar. It is a small hill station around 25 km from Dalhousie. Known as mini-Switzerland it has many places to visit.
Climate/Seasons in Dalhousie
Dalhousie experiences a humid subtropical climate. The weather remains pleasant in summer and cold in winter.
Summer season: March to June are the summer months. The maximum temperature hovers around 27 degrees Celsius. It is a perfect time to do some outdoor adventurous activities like trekking, river crossing, river rafting and many more. One can enjoy watching the golden rays of sun falling on the snowcapped peaks.
Monsoon season:  July to September are monsoon months. The place receives moderate rainfall during the monsoon season. The fresh greenery all around makes it one of the most splendid places to visit. 
Winter season: October to February are the winter months. December and January are the peak winter months where the minimum temperature hovers around 1 degree Celsius. Snowfall occurs during these months. One has to carry thick woolen clothes during winter months.
Best time to visit.
Best time to Visit:  Dalhousie can be visited throughout the year. The best time to visit the place is during the summer months. However, if one has to enjoy the snow then winter months are the best.
How to reach Dalhousie
Dalhousie is easily accessible by air, rail and road.
By air:
The nearest airport to Dalhousie is the Gaggal Airport at Kangra which is around 110 km away. The other nearest airport is Jammu airport which is around 107 km. From here one can either a bus or book a cab and drive down to Dalhousie.
By Road:
Dalhousie is well connected by road from major cities across North India. There are buses from Kangra, Dharamsala, Khajjar and Chamba. A number of private and state buses run from Delhi.
By Rail:
The nearest railway station is the Pathankot railway station. From here one can take a taxi, bus or book a cab to drive down to Dalhousie.
Dalhousie Tourism/ Places of Interest
Dalhousie has many tourist places.  There's something for everyone here like lush deodar forests for nature lovers, historic sites like St. Francis Church for those interested in history. Place attracts thousands of visitors for its renowned Victorian style architecture and jaw-dropping views of the snowcapped peaks of the Pir Panjal mountain range.
For wildlife lovers it can be one of the best places to visit Kalatop Wildlife Reserve. The reserve has some of the impressive blue pine, oak, deodar trees and the Himalayan Bear. A visit to Dalhousie would be certainly incomplete without doing some shopping in the mall Road. One can buy winter clothing, jewellery, home decors and many more.
Dainkund Peak:
Dainkund is the highest peak in Dalhousie which is located at 2755 m above sea level and is a famous tourist spot. The snow peak mountains and the lush green surroundings all around is a treat to the eyes. It is advised to carry warm clothes if you are traveling in winter. The best time to visit this beautiful place is during winter when one can enjoy the lush green, colorful flowers, snowcapped mountains, tall Deodar trees and colourful flower valleys everywhere. The Pholani Devi temple and an Air force are the major attractions of Dainkund Peak.
One can do some trekking here . It is a 5 km trek from Dainkund basecamp situated in Lakkad Mandi.  Lakkad Mandi is around 9 kms from Dalhousie. From here one can reach the air force Barrier where car parking is available. After doing a trek for another 3 kms one will reach the Pholani Mata temple. The best time to do trekking is March to June and October.
Ganj Pahari: Ganji Pahari or literally means bald hill is hikers paradise. It is referred to as a bald hill as there is no vegetation and appears plainer. The trek starts from Panchpula and the total distance covered is around 3.5 km. It is easily accessible from nearby cities and towns. The place receives heavy snowfall during the winter season.
Chamera Lake:
The lake is situated in Chamba district which is manmade reservoir for Chamba Dam. It is at a height of 763 m above sea level and is around 25 kms from Dalhousie. One can indulge in boating and enjoy the greenery all around with pine trees and breathtaking valleys. Houseboats and shikaras are available near the lake. It is part of the Chamera Hydroelectric project that was built on Ravi River. The lake is helpful for the villagers in irrigation and other activities. The place has very fluctuating temperatures with day temperature could be around 35 degree Celsius and night temperature could drop to 20 degree Celsius.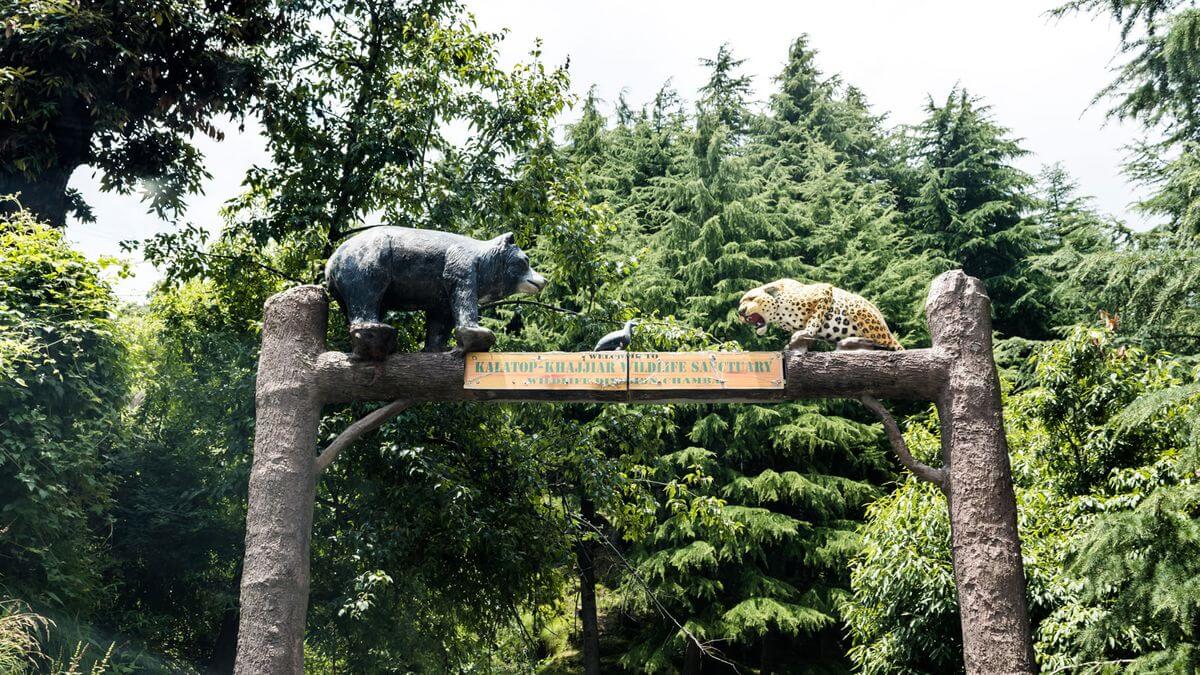 Kalatop Wildlife Reserve:
Located in Chamba district of Himachal Pradesh, this pristine sanctuary is on the way to Ravi River and is surrounded by coniferous and oak trees. It is at an altitude of between 1185 to 2768 m. The name  Kalatop means 'black cap' which refers to the thick forest cover over the sanctuary. The sanctuary is open from 7 am to 6 pm on all days. It is also known as Kalatop Khajjar Sanctuary.
The tourists would be satisfied with the magnificent flora and fauna of this place. One can see the blue pine, deodar forest along with oak, Barking Goral, squirrel, Himalayan Bear, serow, jackal, langur,Grey headed Cannery Flycatcher, Chestnut Billed Rock, Eurasian Jay and many more. There is also a trekking route from Dalhousie to Kalatop. One can enjoy the Jungle Safari and hiking here.  Summer is considered as the best time to visit the place. It is one of the most picturesque places in India.
Satdhara Falls:
With greenery of pine and deodar trees all around and the waterfall coming down makes it a perfect place to enjoy nature. The gushing sound of water which is falling from a height of 2036 m makes Satdhara Falls an important tourist spot in Dalhousie. One can get a magnificent view of the snow capped mountains and Chamba Valley. Satdhara means seven springs, which brings  with it falling seven springs. It is believed that the water has medicinal values as it contains mica. The place will mesmerize you with crystal clear water and the gushing sound of the water. One can go to Panchpula from here.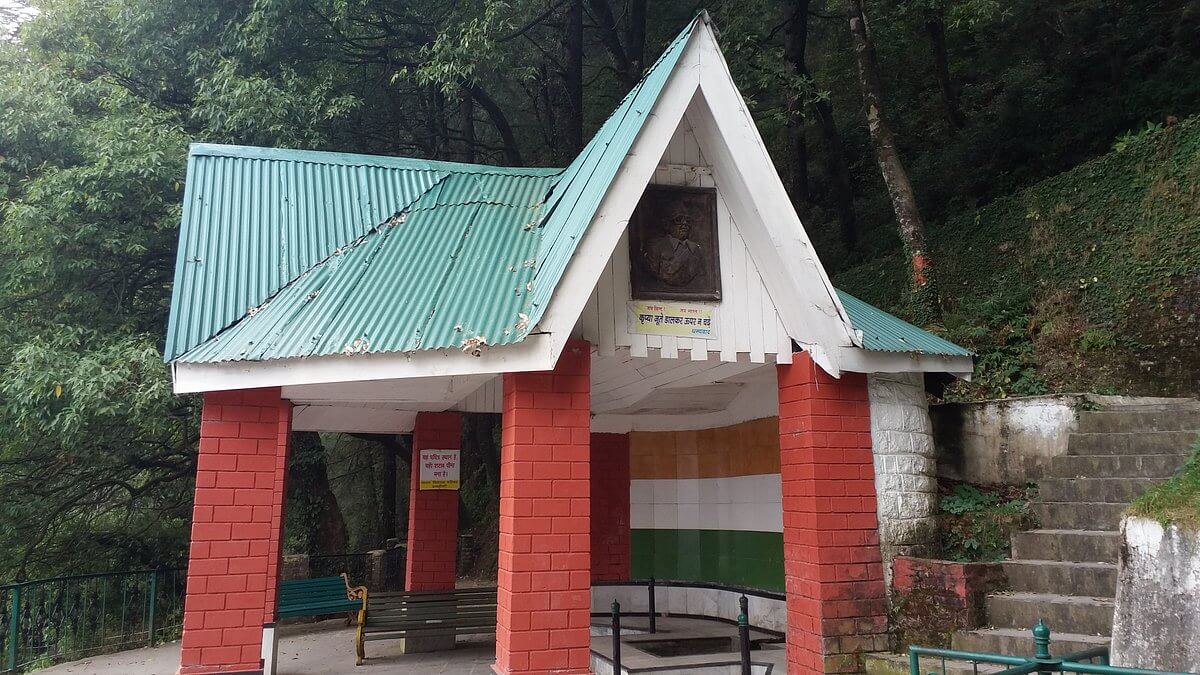 Subhash Baoli:
Named after Subhash Chandra Bose this serene place is covered with pine trees making it one of the popular tourist spots in Dalhousie. It is a perennial spring with medicinal properties. It is believed that Subhash Chandra Bose sat here and did meditation at this place. Subhash Chandra Bose spent close to seven months in Dalhousie and at that time would regularly visit this place. Now a seating arrangement has been made for tourists at the same spot. The place is also famous for the stunning view of the snow capped mountains. The place can be called as heaven on earth with thick pine trees, valleys, mountains and the water spring all around. Truly one can enjoy nature at its best here.
Laxmi Narayan Temple:
It is an ancient temple in the Chamba region. It was supposed to have been built in 920-940 AD. The temple is built in Shikara style of architecture and has six shrines. It is dedicated to Lord Vishnu and Lord Shiva, the main idol being Lord Vishnu which is made from rarified marble. The temple is open from 5:30 am to 8 pm. It is understood that Raja Balabhadra made the idol of Garuda and Raja Chhatra Singh decorated the temple tops.
Chamunda Devi Temple:
This temple is dedicated to Lord Kali. located on the banks of Baner River this stunning temple is believed to be 750 years old. The temple is surrounded by dense, tall pine and deodar trees and magnificent mountains. One can also see forests of Lahl and Pathiar which are all around the area.
According to the sources available it is believed that Goddess Ambika killed the two demons Munda and Chanda in a fight that continued for thousands of demons. The idol is wrapped in a red cloth so that anyone would not touch the devotee. There are also several images of gods and goddess in the temple.
Bhuri Singh Museum: 
Located at the centre of Chamba it was founded in 1908. The museum is named after the late King Raja Bhuri Singh. Raja donated his family paintings and other antiques to the museum. There are around 8500 antiques, which are related to archeology, anthropology, craft and culture of Chamba district. Earlier the museum had only collections from the royal family but now it is home to copper plate grants, carved doors, miniature paintings,weapons, jewellery, musical instruments and many more. It also exhibits Sarda scripts which gives information on the medieval period of Chamba. The museum is open from 10 am to 5 pm on all days except Monday and National holidays.
Bakrota Hills:
Lying close to the border of Dalhousie, Bakrota Hills is definitely one of the most beautiful, picturesque places in Dalhousie. Sitting at an altitude of 2,085m one can see snowcapped mountains all around. The orange rays from the sun falling the oak, pine and deodar trees makes it one of the best places to visit. The best time to visit is the winter season to see the snow-clad mountains. The distance between Dalhousie and the hill is not too much. One can book a cab or taxi to reach the place.
Rang Mahal:
It was built by Raja Umed Singh in the 18th century. It is built in the amalgamation of British and Mughal architecture and the walls of the place are beautified with Punjab hill style paintings depicting the stories of Lord Krishna. Earlier there used to be a large number of ornamental and colorful wall paintings but many of them have been shifted to Delhi National Museum. The palace also has a large collection of manuscripts, holy scriptures, crafts and old jewellery. It is open from 10 am to 5 pm on all days except Sunday. It is closed from 1pm to 2 pm every day.
Moti Tibba:
It is a beautiful hilltop which is surrounded by fir, Oak, pine and rhododendron trees. It was acquired by the government from the Chamba ruler. It is situated 300 m above Gandhi Chowk in Dalhousie; this place is one of the important tourist destinations. It is one of the best places for nature lovers.
DO share your experience with us.
Affiliate Disclosure:
If you make any purchase via a link on this site, I may receive a small commission with no added cost to you.