Mukteshwar
Mukteshwar:
Quick Facts:
Country: India
State: Uttarakhand
District: Nainital
Elevation: 2,1471 m
Climate: Subtropical highland climate
Mukteshwar is a village which sits high on the Kumaon Hills in Nainital district of Uttarakhand, India. It is at an elevation of 2,171 m which makes it one of the most beautiful villages in Uttarakhand. The beauty of the place is that one can get a magnificent view of the Himalayas including the second highest peak of India, Nanda Devi. The place is rich in flora and fauna.
Update on coronavirus in India
The village got its name from the sacred Hindu temple called as Mukteshwar Dham located at the highest point in the village which is dedicated to Lord Shiva.
Mukteshwar Dham is the main attraction in this hill station in Kumaon region of Uttarakhand. Close to the temple is the overhanging cliffs which are locally called as Chauli-ki- Jali which is mainly used for rock climbing.
Climate/Seasons
Mukteshwar enjoys subtropical highland climate. Summers are pretty cool and winters are really cold with occasional snowfall in December and January.
Summer Season: March to June are summer seasons. The maximum temperature may hover around 30 degree Celsius. Summer is relatively cool as compared to the plains. Summer is the best time to visit Mukteshwar for doing some trekking as the terrain remains dry.
Monsoon season: July to September are the monsoon months. The place receives heavy rainfall during monsoon season.
Winter season: October to February are the winter months. The minimum temperature may hover around 3 degree Celsius. December and January may see occasional snowfall. It is mesmerizing to see the snow capped mountains all around.
Best Time to Visit
Mukeshwar can be visited throughout the year. But March to June is considered the best time to visit. People also visit from October to February to enjoy the cool climate and also to see snowfall.
How to reach Mukteshwar
By Air: The nearest airport is Pantnagar which is around 100 kms from Mukteshwar. One can book a taxi and drive down from the airport.
By Rail: Kathgodam ( suburb of Haldwani city) which is around 70 kms from Mukteshwar is the nearest railway station. The railway station is well connected to major cities like Delhi, Lucknow and Kolkata. From here one can take a taxi and drive down to Mukteshwar.
By Road: Mukteshwar is well connected by road from the major cities of India. Buses are available from Delhi, Kumaon, Nainital and other regions. Both government and private buses are available. Cabs and taxis are also available in plenty.
Places to Visit/ Tourism
Mukteshwar has many beautiful places to visit. Some of the tourists places are
Chauli Ki Jali-
It is located behind the Mukteshwar temple which gives an excellent view of the valley of the Kumaon region. It is also famous for rock climbing and rappelling.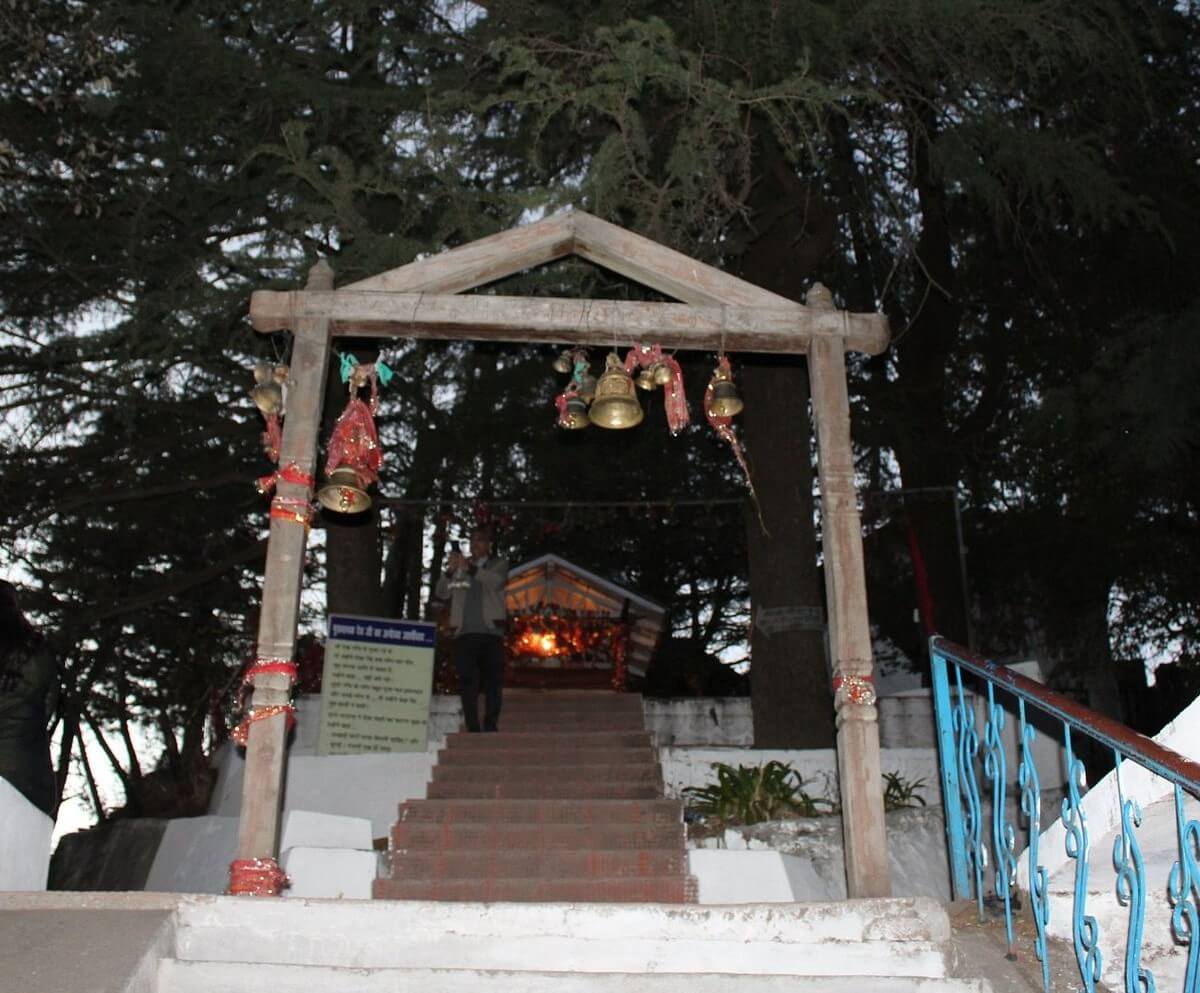 Mukteshwar temple:
The place got the name as Mukteshwar from this temple. It is a 350 years old temple dedicated to Lord Shiva which is situated at the highest point in the town. The temple has a beautiful carved Shivling which is surrounded by idols of Brahma, Vishnu, Parvati, Ganesha and Nandi.
Situated at a height of 2,312 m above sea level, it is believed that the temple was built by the Pandavas during their exile in the hope of getting salvation. The temple is open on all days from 6 am to 7 pm.
Sitla:
Located at an height of 6,000 ft it is a popular hill station near Mukteshwar. It offers the tourist an enchanting view of the Himalayan peaks like Nanda Devi, Trishul and Panchachuli. One can also see a stone building known as Sitla Estate which was built during the British period.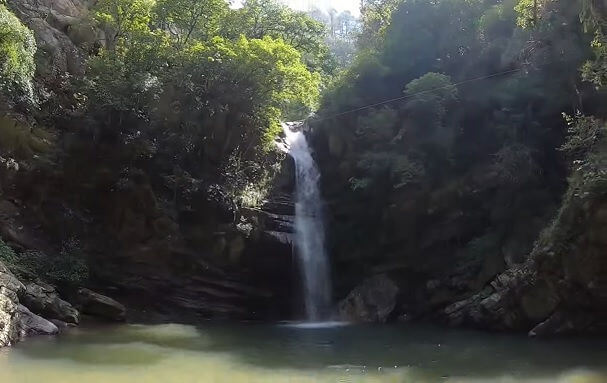 Bhalu Gaad Waterfalls
Locally known as rainbow waterfall, it falls from a height of 60 ft. The waterfall is filled with water throughout the year. It is at a distance of 10 km from the main town of Mukteshwar. At the bottom of the waterfall there comes the rainbow hence locals call it a rainbow waterfall. The route to the fall is a perfect path for trekking.
Indian Veterinary Research Institute
The lab was established in 1893 to quarantine the highly contagious organism. It was completely destroyed by fire in 1898 and was revived and restored in 1901.
Later the lab was developed into an Indian Veterinary Research Institute and moved its headquarters to Izatnagar. It has branches in many cities including Mukteshwar.
Nanda Devi Peak:
Nanda Devi Peak which is the second highest peak in India is clearly visible from Mukteshwar. Located at a distance of around 110 kms from Mukteshwar one can get to see the peak and also some other peaks of Himalayas.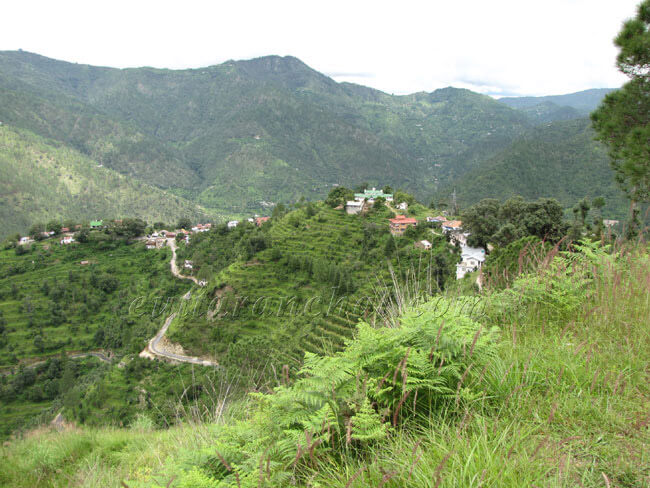 Ramgarh:
Ramgarh is a popular hill station on the way to mukteshwar. It is at a distance of around 30 kms from Mukteshwar. It is at an elevation of 1,518 m and an uninterrupted view of snowy mountains can be seen from this place. The place is rich in orchards, apples, apricot and peaches.
The village is also known as "fruit bowl of Kumaon region" because of the different varieties and fresh fruits available here. Ramgarh is divided into two regions namely Malla Ramgarh which is the Upper part and Talla Ramgarh which is the lower part. It is truly worth visiting and tourists can enjoy some fresh fruits.
Nathuakhan:
Located at a distance of around 19 kms from Mukteshwar, Nathuakhan is a small village at a height of 1,940 m. It is the heart of the Kumaon Mountains of central Himalayas.
Hartola:
It is a small village located at a distance of around 30 kms on Bhatelia Mukteshwar road. The village is at an elevation of 8345 ft. The village is next to the Mukteshwar Forest Reserve which has the largest population of Himalayan Oak and Devdaar trees. The place is famous for varieties of fruits like apples, peras, plums, peaches and apricots.
Peora:
Nestled in the lap of Himalayas, Peora is a small village located at an elevation of 1,997 m. It is around 10 kms from Mukteshwar. Peora is famous for ecotourism and is still very serene and untouched from modern life. One can see the Himalayan Shivalik ranges of Kumaon region.
The entire village is surrounded by Pine, Sal, Oak, Rhododendron trees. The lush green trees are home to different species of birds. It is one of the best places for bird watching. Peora is home for around 200 species of birds and 150 species of insects.
Do share your experience of Mukteshwar with us here
Affiliate Disclosure:
If you make any purchase via a link on this site, I may receive a small commission with no added cost to you.