Sanctuaries of Goa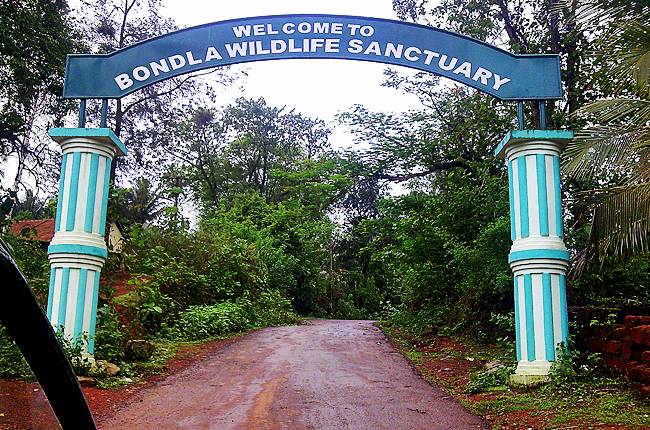 Goa is not only famous for its beaches, churches but also have famous sanctuaries which one should not miss to visit. Some of the famous sanctuaries are
 Bondla sanctuaries: This sanctuary lies in Ponda taluk and 52 Km from Panaji. It is a small sanctuary spread over 80 sq Km, one can see Panther, leopard, Deer. Other than watching animals one can see botanical garden, zoo and Deer Park. A complete family entertainment place, sanctuary even has elephant rides. Ecotourism cottages are available which can accommodate close to 24 persons. The flora and fauna are good. The taluk is covered with deciduous forest with some patches of green vegetation.
Bhagwan Mahaveer wild life sanctuary: This sanctuary is situated at Molleum taluk 57 Km from Panaji. Covering an area of 24 sq Km it is one of the biggest sanctuary in Goa. It was declared as sanctuary in the year 1969. The sanctuary not only is home for many birds and animals but also consists of water falls like Dhudsagar falls, Tambdi falls and Devils Canyon. It also has a sunset point. Some of the birds and animals that can be spotted black deer,  Bengal tiger, Barking Deer, leopard, Pangolin, Civet, Malabar grey hornbill, grey headed myna, three toed, ruby throat yellow bulbul, viper, king cobra and many more. The forest is mainly covered with ever green and deciduous forest. Some of the flora is terminalia, Lagerstroemia, Xylia and timber trees. Other than these one can enjoy Hiking and Trekking in the sanctuary.

Cotigoa, Salim Ali and Mhadei sanctuaries in Goa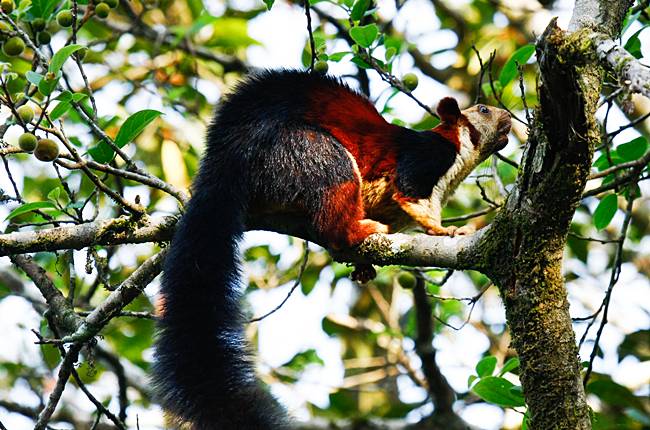 Cotigoa sanctuary: This is the second largest and most accessible sanctuary in Goa which is located in Canacona Taluk, South Goa. The sanctuary has very tall trees where even the sunlight reaching the ground is very difficult. This sanctuary was opened in the year 1968 mainly to protect the woodland that is stretched along Goa Karnataka border.
The vegetation here is of moist deciduous type with patches of semi evergreen. Some of the animals that can be seen here are Pngolin, different types of Deer, four Horned antelope, Malabar pit Viper, Malabar trogon, tree toad, white Lizard, Panthers, Hyena, Sloth Bears. Other than watching animals there are many attractions for visitors like Hiking, treetop perches.
Salim Ali bird sanctuary: This bird sanctuary is named a famous ornithologists named Dr Salim Ali is spread across an area of 1.78 sq Km.  the area mainly consists of Mangroove vegetation. This sanctuary can be visited anytime of the year however a permission from the Forest department Panaji Goa is required.
One can see a number of migratory birds here. Some of the birds that can be seen are different colours kingfishers, woodpecker, mynas curlews, drongos, Pintail Ducks and many more. The sanctuary also has a resource centre where in the tourists can also study about the birds they watch. Reaching this sanctuary is little tedious as after reaching Panaji one has to take a ferry from Mandovi river at Ribander ferry Wharf. On reaching private parties would be available to take you around the sanctuary.
Mhadei wildlife sanctuary: Located in Valpoi village, Goa covers an area 208 sqKm. Due to the spotting of Bengal tigers within the sanctuary there is a proposal to make the sanctuary into Project tiger reserve.  Like other sanctuaries even this sanctuary also has rest houses for night stay, one needs to take permission before staying. Flora and fauna is too good in this sanctuary.
Sacred grove gives protection to variety of plants like Ashoka( which is saffron in color), sonyali, Kutyali, Shringar, bhilo maad and many more . Some of the fauna different types of Deer, Indian civet, wild boar, ruddy mongoose, langur, Black Panther, Sloth bear, Leopard, Tiger, Nilgiri wood pigeon, blue Flycatcher sunbird. The sanctuary consists of large variety of venomous snake like cobra, Russell viper, Saw scale Viper and Indian Krait. Some other attractions are Vazra Sakla waterfalls, white water rafting and Virdi falls in Chorla Ghats.

Update on coronavirus in India
Affiliate Disclosure:
If you make any purchase via a link on this site, I may receive a small commission with no added cost to you.